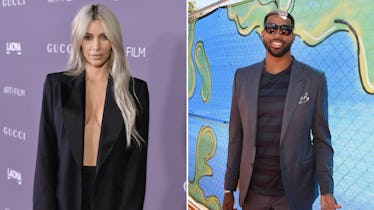 This Detail On Kim K's Instagram Is A Clue She's Seriously Pissed At Tristan Thompson
Neilson Barnard & Kevin Winter/Getty Images Entertainment/Getty Images
April was not great for the Kardashians. With the glorious exception of the arrival of Khloé Kardashian's first baby, True, a lot of sh*t went down. Mainly, her baby's daddy, Tristan Thompson, was reportedly caught cheating, causing all hell to break loose. Kim Kardashian recently spoke with Ellen DeGeneres about Thompson's actions. Now, it looks like Kim Kardashian unfollowed Tristan Thompson on Instagram, so yeah, I guess it's getting ugly.
Fans were devastated for Khloé Kardashian when videos of Thompson kissing other women began circulating on April 10. Elite Daily reached out to Kardashian and Thompson's teams for comment on the cheating reports but did not hear back by the time of publication. Everyone knew Khloé K was incredibly close to her due date with their child, and because of this, she was unable to leave the Cleveland home she shared with Thompson to be with her family in Los Angeles. A source told E! News,
Her entire world has been turned upside down. She cried hysterically all night. She begged to come back to L.A. and tried to find any way to make it work but her doctor wouldn't let her. She just wants to be with her family and leave as soon as possible. Kris is there [in Cleveland] and completely supporting her.
Thompson, do not f*ck with the Kardashians, OK?
After discussing the scandal on The Ellen Show, it looks like Kim Kardashian has officially unfollowed Thompson on Instagram.
The feeling seems to be very mutual.
As of Monday, April 30, Thompson followed 435 people, but not one of them was Kim. However, all of her other female family members were still included on his "following" list.
You can clearly see Kylie, Kourtney, Kendall, Kris, and Khloé are still there, but Kim is nowhere to be found.
During her interview with DeGeneres, Kim said what we all were thinking, explaining the situation is, "so f*cked up."
"Poor Khloé," Kim said. "Like, I don't even know how to describe it besides it's so f*cked up. We really were rooting for Khloé and we still are. You know she's so strong and she's doing the best she can. It's a really sad situation all over."
I think sending Kim to talk about the scandal was the smartest move this family could make. Somehow, she seems to navigate tricky conversations about difficult familial topics with ease and grace, and still give the fans the scoop they're looking for.
Kim continued to explain to Ellen,
I kind of made this rule with my brother. If there's a baby involved, I'm gonna keep it cute and keep it classy, and not talk too bad. I'm going to try not to say anything so negative, because one day, True is going to see this. You know, it's just so messed up.
For now, Kim is the first family member to truly go on record speaking about Thompson's actions.
Some reports suggest Khloé is actually hoping to work things out. One insider told E! News she is "committed" to making it work. The source said,
They are both 100 percent committed to moving past this and focusing on the overwhelming joy they have in their life right now with their new daughter. Tristan knows he's got to step up now though and can't screw up.
The source added, "They're only looking forward, not backward," claiming, "She loves him, and it looks like for the time being she isn't ending their relationship."
Oof. I know it's technically, literally, actually none of my business, but Khloé, I hope you can follow your heart! I'm here for you and True, and you guys can come crash in my studio apartment any day.
Check out the entire Gen Why series and other videos on Facebook and the Bustle app across Apple TV, Roku, and Amazon Fire TV.