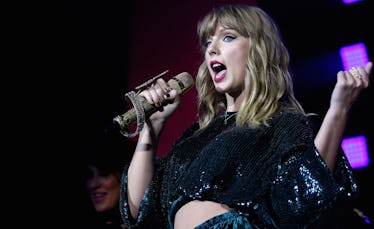 Tiny Details In Taylor Swift's "End Game" Video Include Her Cats' Names & We Love It
Taylor Swift announced on Thursday, Jan. 11, that the "End Game" music video is dropping at midnight on Friday, Jan. 12, and fans are pumped. The teaser video was posted on Swift's Instagram and Twitter, and fans quickly scoured the video for hidden clues and meanings. Naturally, they found them very fast. Tiny details in Taylor Swift's "End Game" video include her cats' names because Swift is nothing but on-brand.
In part of the teaser video, you see Swift walking through a city with lots of brightly lit signs in Japanese lettering. At first glance, the signs seem arbitrary, but Swift fans were quick on their feet to see if those signs translated to anything related to the album. And yup, they definitely do. According to one fan, the signs read some of the song lyrics ("I wanna be your first string," "A-team," and "end game") and her cats' names (Meredith and Olivia). Oh, Taylor, you and Joseph Kahn think of everything. Kahn is the "End Game" music video director. He also directed the "...Ready For It?" music video (which also had a lot of tiny, hidden details) and the "Look What You Made Me Do" music video, which famously had a lot of not-so-subtle details.
I'm pretty sure Taylor Swift's fans could crack the DaVinci Code if it were hidden in one of her music videos.
One of the signs in the teaser also apparently reads "reputation" or "rumor," which is also right on brand for this video/album. Fans love it when Swift throws in tiny details like this, but they're dying to see the video and don't want to wait until midnight.
Swift apparently has been hinting at some new content coming on her app lately, and she announced the music video's upcoming arrival on the app on Jan. 10.the
Photos on Swift's app (The Swift Life) apparently hint that the video will be set in London and in Miami, and it's leaving fans confused about how those two places will be connected.
Swift was seen filming a music video in London in October, and she was also seen filming a music video in Miami last month. What's more, someone who looks just like Katy Perry was seen on the set of this video shoot in Miami, leaving fans to believe Katy Perry might be in the "End Game" music video. Seeing as Perry was in Miami for Witness Tour at the same time Swift was there to film her video, it's totally possible that Perry stepped onto the set to make an appearance in the video and officially end their five-year feud.
Outside of the hidden meanings found in the "End Game" music video teaser, it looks like the video is going to be a lot of fun. Swift and Sheeran are best friends, so the video must've been fun for them to shoot together.
Swift and Sheeran performed "End Game" together at iHeart Radio's Jingle Ball on Dec. 8.
Future wasn't part of the performance, but he's definitely in the official "End Game" music video, so fans have that to look forward to!
When it comes to Katy Perry making a possible appearance, I imagine it would be during one of the parts of the song where Swift sings (Raps? Chants?) about her "biggggg reputation." Part of the "End Game" lyrics go:
Big reputation, big reputation. Oooh, you and me we got big reputations, ah. And you heard about me, oooh. I got some big enemies. Big reputation, big reputation. Oooh, you and me we'd be a big conversation, ah. And I heard about you, oooh. You like the bad ones, too.
That "big enemies" and "big conversation" part could definitely be the perfect place for a Perry cameo since their five-year feud definitely has its own reputation and if they were to reconcile, that would definitely be a big conversation. We see what you might be doing there, Taylor...