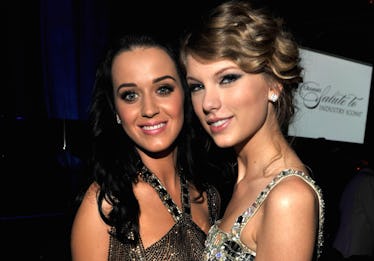 Fans Think Katy Perry Will Be In Taylor Swift's "End Game" Music Video & I'm Shook
IT'S A CHRISTMAS MIRACLE: Taylor Swift and Katy Perry's feud might be coming to an end after five long, pointless years of public fighting. According to E! News, Swift and Perry reconciled when they were both in Miami recently and Perry reportedly made a cameo appearance in Swift's "End Game" music video while there. That's right, Taylor Swift's "End Game" music video may star Katy Perry, and hell hasn't even frozen over yet. Neither of the singers have confirmed anything, but I sure as hell hope this is true because this feud needed to be over a long time ago.
Sources told E! News that Swift's "End Game" music video was indeed filmed in Miami. Perry was there filming her "Hey Hey Hey" music video and was spotted in Disney World around the same time. She also posted on her Instagram that she was there for one of the stops on her Witness tour. These reports are a far step from the time Katy Perry did "Carpool Karaoke" with James Corden and talked about her beef with Swift. In the segment, she said she tried to reach out to Swift to clear the air, but she got nothing in return. She said, "I tried to talk to her about it and she wouldn't speak to me." According to E! News, Future was also seen in Miami for this "End Game" shoot, so we can likely expect to see him in it as well as Ed Sheeran, who is also featured on the song.
A photo from the set of the "End Game" shoot has fans convinced Perry is going to be in the video.
In the shot, it's easy to recognize Swift's curly blonde hair standing close to the light. A few people back from her is a woman with Katy Perry's haircut and color, and it's really easy to see how people could think it's Perry herself. It looks exactly like her, even though we can't see her face. Some fans, however, think it's Halsey. But that would be an even more random appearance than Perry.
"End Game" also references Swift's past beef with other celebrities. Some of Swift's "End Game" lyrics go:
Big reputation, big reputation. Oooh, you and me we got. Big reputations, ah. And you heard about me, oooh. I got some big enemies. Big reputation, big reputation. Oooh, you and me we'd be a big conversation, ah. And I heard about you, oooh. You like the bad ones, too.
Big enemies? You mean like people you make huge music videos about re: "Bad Blood"? Sounds about right!
Perry posted on Instagram on Dec. 20 confirming she was in Miami for her Witness tour.
Her post said,
Hiya. I'm writing you from Miami, prepping my last Witness: The Tour show of 2017. I'm reflecting on a year that has redefined what winning means to me. And the definition of winning for me this year was simply happiness and gratitude. This year has made me more appreciative than ever for my listeners, my KatyCats - whether you've been with me since "I Kissed A Girl" or if you only started to "Swish Swish" with me. I'm humbled that you still give me your nights out to connect with you live all over the world and remind me of the place in your hearts that you hold for all these songs.
After a year of peaks and valleys (remember, it's all a journey), I wanted to end 2017 with a fun, triumphant piece of pop candy. Just think of it as a glam little stocking stuffer from me to you. "Hey Hey Hey" is one of my favorite songs from "Witness" and for me, it embodies the fighting spirit I always want you to be able to find within yourself, and to see in me. So ho, ho, ho; and hey, hey, hey; and happy holidays. Yours, Katy
So based on these clues, it looks like it's a definite possibility that we'll be seeing Taylor Swift, Future, Ed Sheeran, and Katy Perry in the "End Game" music video. No news on when the video will be out as Swift hasn't announced anything just yet, but it's good to know it's in the works!