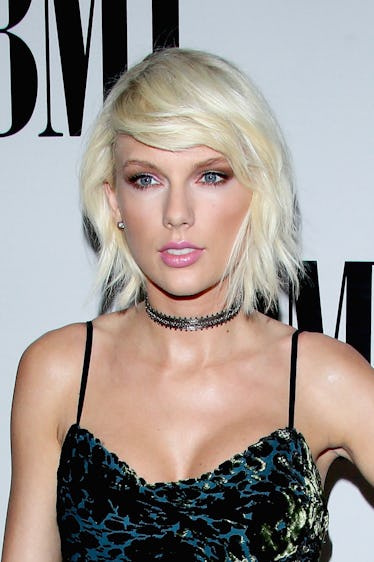 Here Are All The Tiny Details In Taylor Swift's "...Ready For It?" Music Video You Definitely Missed
Mark Davis/Getty Images Entertainment/Getty Images
Taylor Swift's "...Ready For It" music video dropped and I don't know if I was "ready for it." The singer released her second music video of the year at midnight on Oct. 27 and it was everything fans wanted and more. The music video was packed with action, mystery, and lots of lightning. However, Swift included tons of subtle items that only the most in-tune Swifties could pick up. Tiny details in the "...Ready For It" music video were all over the place.
The first detail could be in relation to Swift's rumored boyfriend, Joe Alwyn. At the very beginning of the video when Swift enters that warehouse (scary science lab?), there's graffiti on the wall behind her. The numbers 89 and 91 are spray painted on the wall in orange and yellow. Swift was born in 1989 and Alwyn was born in 1991. So cute, right?
The second detail could be more tracks from Reputation. I've said this so many times but TAYLOR SWIFT DOES NOT DO ANYTHING BY ACCIDENT. Especially not when it comes to her music videos. A sharp eye on Twitter caught a few spray painted phrases that seem like they could be pulled right off Reputation's tracklist.
The phrases are "all eyes on us," "ur gorgeous," "this is enough," and "I love you in secret." Since Swift already released a song called "Gorgeous," it makes sense to believe that the others could be possible track names. I guess we'll just have to wait and see.
Swift has done an excellent job sprinkling subtle details in every single one of her drops for Reputation. One of the classiest was when Swift announced the song title for "...Ready For It" while announcing "Look What You Made Me Do" and literally no one noticed.
Fans on Twitter picked up on a little detail in Swift's announcement about her first single, "Look What You Made Me Do," that could definitely be interpreted as a sign that "...Ready For It?" was coming. Her Instagram about the single read,
...ready for it? New single #LookWhatYouMadeMeDo out now. Pre-order Reputation (link in bio) and find out about tickets and merch at taylorswift.com
There it is, right in front of our faces. Swift was already promoting her second single while dropping her first — we were all just too excited to realize it initially. You are wise, Taylor Swift.
I really love the lyrics to "...Ready For It." Even though the old Taylor can't come to the phone right now, I love her writing and how she paints a picture of relationships. It's a little spooky. The first verse of "...Ready For It" is:
Knew he was a killer first time that I saw him
Wonder how many girls he had loved and left haunted
But if he's a ghost, then I can be a phantom
Holdin' him for ransom, some
Some boys are tryin' too hard, he don't try at all though
Younger than my exes, but he act like such a man, so
I see nothing better, I keep him forever
Like a vendetta-ta
Truly no one can quite sum up relationships like good ol' Swifty. Although "...Ready For It' has a really poppy beat, it is actually a very flirty song. The chorus says:
In the middle of the night, in my dreams
You should see the things we do, baby
In the middle of the night, in my dreams
I know I'm gonna be with you
So I take my time
Are you ready for it?
Sassier than you were expecting, eh? There were a lot of fan theories circulating that said "...Ready For It?" was about Harry Styles. Early in the song, Swift sings, "younger than my exes but he act like such a man so."
Fans decided that it's Styles for a simple reason: he's one of the youngest guys she's dated. The former One Direction member is 23 years old, compared to Swift's other notable exes, Calvin Harris (33), Tom Hiddleston (36), Joe Jonas (28), and Jake Gyllenhaal (36).
However, Styles isn't the only contender. Swift's ex Conor Kennedy is actually 22 years old, so technically, it could just as easily be about him. But the biggest suspect is definitely Swift's current boyfriend, Joe Alwyn.
The sexy, flirty nature of the song suggests that it's about someone Swift is currently into, and as much as we may love to 'ship Haylor, that's not quite as likely as the guy that she's actively dating.
One thing is for sure — Swift loves writing songs about the men in her life. Honestly, I'm thankful for guys like Joe Alwyn and Harry Styles, without them who knows how it would have affected Reputation. I'm legit loving everything Swift has given us so far.
The "...Ready For It" music video was amazing and I can't wait to see what's next from Reputation.
Check out the entire Gen Why series and other videos on Facebook and the Bustle app across Apple TV, Roku, and Amazon Fire TV.