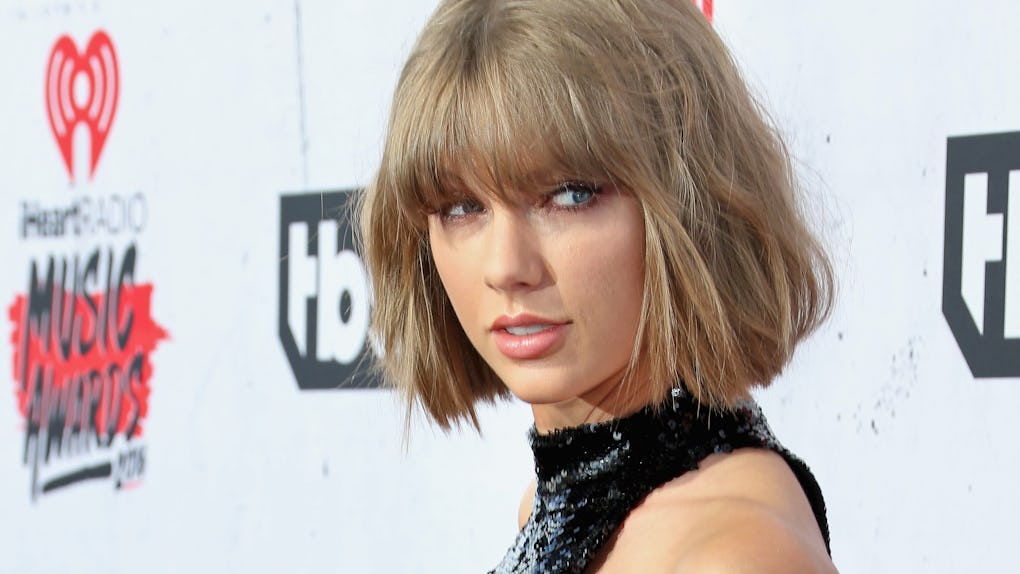 Frederick M. Brown/Getty Images Entertainment/Getty Images
What Is The Meaning Of Taylor Swift's "...Ready For It?" Music Video? It Seems Deep
The music video for "...Ready For It?" dropped on Oct. 26 and it's already causing a huge conversation. On a surface level, it seems very futuristic and all about robots and witches. However, it's meaning is much, much deeper. What is the meaning of the "...Ready For It?" music video? It's actually all about Taylor Swift and how the media portrays her.
As we all know by now, Swift is shown as two versions of herself in the music video — a hooded witch-type robot and a naked cyborg. A popular theory is that the naked version of Swift is the media's portrayal of her. At the beginning of the video, the hooded Swift is controlling naked Swift and it's kind of sad, TBH. Naked Swift is trying to get her glow on and keeps getting knocked down.
Then, at the end, Naked Swift reclaims herself and strikes back. This could also relate to her being naked in Kanye West's "Famous" music video. Instead of letting someone else be in control, Swift is now taking over.
For those of you who are not here for the fan conspiracy theories, think again. Swift has been dropping hints about Reputation and its individual tracks all over the place, so no detail is too small to mean something. Most notably, Swift announced the title of "...Ready For It?" right under our noses.
On Twitter, fans noticed a little detail in Swift's announcement for her first single, "Look What You Made Me Do," that could definitely be interpreted as a sign that the second song was en route. Her Instagram about the single read,
...ready for it? New single #LookWhatYouMadeMeDo out now. Pre-order Reputation (link in bio) and find out about tickets and merch at taylorswift.com
There it is, in plain sight. Swift was already promoting her second single while dropping her first. Classic Taylor. Obviously this could be a coincidence, but I'm not buying it. Besides, look at the ellipsis that mimics the title of the song. Does Swift actually do anything by accident? Most likely not.
Swift's second single, "...Ready For It?," dropped on a Saturday night in the middle of the No. 1 Alabama versus No. 3 Florida State college football game. Honestly, it's not surprising that Swift fans weren't "ready for it." If she only made her big releases via college football, I would legit miss them all.
Another detail in the "...Ready For It?" video that had fans obsessing was a tiny phrase shown in the music video trailer. The words "they're burning all the witches" appear as graffiti on a ledge during literally the last second of the 15-second teaser. The scene features Swift blasting some lightning out of her face (mouth?) while three soldiers (robots?) are coming after her. Like I said, it was literally one second in the teaser and fans were obsessing over it.
The most popular explanation for "they're burning all the witches" was that it was somehow related to Kim Kardashian and Kanye West. Can we all agree that maybe not everything Taylor does is because of Kanye? Guess not.
As we all know, after "Look What You Made Me Do" was released at the VMAs, everyone assumed that Reputation would be one big middle finger to those who have crossed Swift in a negative way. Of course, there is no bigger feud in Hollywood than the longstanding drama that is Kanye West and Taylor Swift. Then, Kim got in the mix and it was all too much.
On July 17, 2016, Kim K blew our minds by releasing footage of hubby West chatting on the phone with Swift about his song, "Famous." The figurative witch hunt Swift could be referring to may possibly be the #KimExposedTaylorParty-turned-National Snake Day. Basically, people were on a witch hunt over the videos and read receipts looking for a reason to start hating Swift.
With the release of the "...Ready For It?" video, I think people are finally starting to see how deep and thoughtful Swift's work really is.
Check out the entire Gen Why series and other videos on Facebook and the Bustle app across Apple TV, Roku, and Amazon Fire TV.