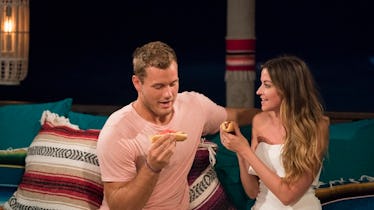 Tia's Reaction To Colton Being 'The Bachelor' Reveals A Lot About Their Relationship
ABC
Colton Underwood has officially been anointed as America's Bachelor-to-be. The former NFL player took up a good chunk of screen time on Season 14 of The Bachelorette and Bachelor in Paradise Season 5 and although his journey wasn't always roses and sunshine (OK, roses were definitely involved and Mexico's weather seemed lovely), apparently all the ups-and-downs were worth it in the end. But what does Colton's ex think about his new title? Tia's reaction to Colton being The Bachelor is honestly so mature.
The announcement that Colton would be the next Bachelor was made on Good Morning America on Sept. 4. Just after the announcement, Tia took to Twitter to share her thoughts. She wrote, "Congratulations @Colt3FIVE I hope your season is full of protein powder, puppies, and naps! #TheBachelor." She then followed up that tweet with another one, saying, "And NO I will NOT be a contestant on Colton's season. Lord bless."
Tia and Colton have lived what feels like a lifetime of on-again-off-again drama throughout their Bachelor-verse experiences thus far. Their relationship was at the center of this summer's installment of BiP.
The couple made headlines for striking up a connection even before Colton stepped out of The Bachelorette limo — they hit it off via social media and spent a weekend in Los Angeles together in January before cutting things off. The pair cooled off so he could be free to compete for Becca's heart. Tia's presence wasn't completely out of the picture, though — she had two appearances on Bachelorette Season 14 and both of them revolved around her past with Colton, even if that wasn't the original intention. Tia and Colton promised Becca their fling was in the past and, honestly? It kinda looked like it was. Colton even made it all the way to hometowns with Becca. Then, Tia dropped a bombshell: She wasn't over Colton.
"I just have to be fully out there and put it out there because it's been weighing on me," Tia told Becca before admitting her feelings hadn't subsided. Becca sent Colton home after the revelation, though she has since said Tia's words did not play a part in her decision.
Fortunately for Tia, Colton went from the one who got away to the one who could be the one when they both decided to hit up Bachelor in Paradise Season 5. The pair reunited and slowly rekindled their flame. Although Colton initially had hesitations about being exclusive with Tia (plus, he was still raw from the Becca breakup, which was made abundantly clear when the former Bachelorette showed up), the couple decided to see where things would go. After an exhausting back-and-forth first few weeks in Mexico, Tia and Colton achieved #ParadiseGoals: He asked her to be his girlfriend.
"I can confidently say that I can see me and Colton getting engaged at the end of this," Tia excitedly exclaimed in Episode 5.
Bachelor Nation exhaled a sigh of relief and the couple seemed well on their way to becoming one of those coveted BiP success stories that keep getting thrown around. (If I hear references to Carly and Evan or Jade and Tanner one more time...). But on Monday, Sept. 3's episode, the pair split for good and both Tia and Colton left Paradise.
The thing is, Bachelor breakups aren't exactly like regular ones. There's always the chance that you'll eventually have to see your ex date 25-plus people on national television. Bright side? Maybe this puts Tia in prime position to be the next Bachelorette.