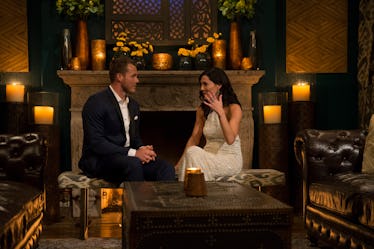 Becca Showed Up In 'Paradise' & Had A Seriously Real Conversation With Colton
ABC/Paul Hebert
One conversation I did not expect to see go down in Paradise this season was a heart-to-heart between Becca and Colton. I mean, she's happily engaged and he's supposed to be living it up in Mexico. Why must they re-hash their breakup here and what is she even doing crashing this singles party? Well, Colton's still got Becca in the brain even though he and Tia attempted to rekindle whatever flame they ignited earlier this year. Becca and Colton's conversation on Bachelor in Paradise was bound to happen once she stepped for on the Sayulita sand, things got seriously real.
"The other guys don't get it. The other guys were there until week five. They didn't introduce them to their family. They ddin't get to spend the extra month that I did," Colton admitted through sobs on Monday night's episode as he watched Becca chatting with Tia on the beach. "I fell in love."
"I don't know if I can stay composed in a conversation with her," he also confessed regarding Becca's return, when asked by David if he just needed closure.
Well, closure is what he got. Sort of. Plus, some direction on if he could go on with the Paradise process with everything going on in his head. With the Tia drama and the heartbreak from Becca still weighing on him, the guy is wrestling with a lot.
"This whole thing has brought a lot of feelings back, to be honest, that I just buried that I didn't even know I did until I got there," he told Becca, also confessing that he held back a lot of emotions after their Bachelorette breakup.
Colton went on to do what he meant to do back in Los Angeles when he got booted from Becca's season: figure out what went wrong. He even asked how big of a role Tia played in Becca's decision to say goodbye to him after hometowns. Becca's response?
Yes, I saw Tia that day. It wasn't the conversation that changed my mind. I had the other guys that I felt stronger in my relationship in and felt that they would fit into my life better.
And then Becca asked what all of Bachelor Nation (most of all, Tia) was wondering. "Do you feel like you are ready to potentially find a partner?," she pressed him.
Turns out, he's totally down! Even though Colton confessed he had his doubts, his entire demeanor changed toward the end of his Becca conversation. It's like she was his coach giving him the romantic pep talk he so desperately needed. Get out there and give it all you got, Colton!
Prior to Season 5, Colton teased that his BiP experience was more emotional than he expected. He told ET in July:
I think, you know, just coming out of a relationship with Becca [Kufrin], and I'm dealing with Tia at the same time, and I'm also on a beach with a bunch of beautiful women and some of my friends, so I wasn't expecting to feel the emotions that I felt.
But he also doesn't appear to have regrets when it comes to contuing his reality TV dating adventures.
"I'm very happy that I went on Paradise," he added. "You can tell in the last episode, there's a lot of conversations that need to be had. It was also another time to put myself out there and take a shot at finding love and dating other women."
Now that he and Becca have faced their past and looked towards his potential future, who knows what will happen now? Colton has already faced an ex-fling and an ex-love and it's only Paradise night three.