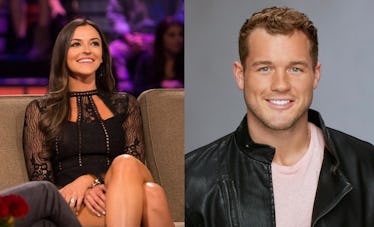 Bachelor Nation Has A LOT To Say About Colton & Tia's First Night In 'Paradise'
ABC/CRAIG SJODIN/PAUL HEBERT
Bachelor in Paradise brought back some familiar faces for season 5 and Bachelor Nation isn't entirely thrilled about it. Colton and Tia, who made for a really weird love triangle with Becca on The Bachelorette, are both featured this season on Bachelor in Paradise. While they both have a rather mysterious past (that included a romantic weekend in Runyon Canyon), fans are pretty iffy about seeing their relationship play out again on the small screen. And they're not shy about sharing their thoughts! These tweets about Colton and Tia on Bachelor in Paradise are pretty brutal. But hey, isn't that what everyone loves about this show, anyway?
So, here's how it went down on the show: Basically, Tia spends a good chunk of her time talking endlessly about Colton and how they once "dated" even though most people know by now that their relationship barely got off the ground (aka, they went on one whole date) before Colton headed to The Bachelorette.
Tia's just waiting and waiting for Colton to show his face on the island. But her waiting is all done in vain because Colton doesn't show by the time Tia is presented with a date card. She ends up on a date with Chris in Colton's stead. Then Colton shows up and kind of ignores Tia for a little while, which prompts everyone to feel on edge. Even the fans feel it ...and that's why Twitter is basically blowing up right now.
People aren't exactly happy that Colton is talking to everyone but Tia:
At the same time, they're kind of irritated that Tia seems hung up on Colton:
They're also super confused about her kissing Chris when she's still waiting for Colton to show.
One person even guessed how the show would go down even before anything happened:
And then there's the big talk between Tia and Colton. You know, the one where he basically tells her that he's still into her, but doesn't want to commit. Yikes!
"I'm not closing the door on us," Colton told Tia after calling her out for blowing his chances with Becca during his season of The Bachelorette. "I'm here to figure my sh*t out and that includes you." Cut to a montage of Tia and Colton jet-skiing and making out.
This all feels like a huge tease.
As you can imagine, fans are pretty upset about this, too, because ...what is happening? Why can't they make up their minds? In any case, fans have a lot to say about this:
The sad part about all this is that Tia recently told Entertainment Tonight that she felt like there was a "big question mark" hanging over their heads because she wasn't sure how he felt:
I feel like me and Colton are just a big question mark because we haven't gotten to have that conversation about where we stand, about how he feels about me … I think the conversation definitely needs to happen. There have been times that I've wondered, 'OK, was he interested in me being the Bachelorette and he wanted to get to know me first before he was on my season?'
So, yeah, Colton is definitely showing his true colors. And maybe Tia, in her desperate pining for him, is showing hers, too. Hopefully, they both develop stealthier ways of expressing themselves in the future because this entire episode erred on the cringey side for both of them.