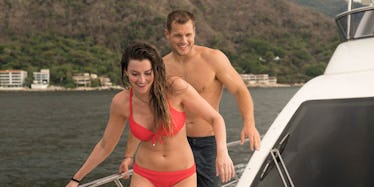 Tia & Colton Finally Gave 'Bachelor In Paradise' Stans The Moment They Were Waiting For
ABC/Paul Hebert
Tia and Colton. Colton and Tia. The it couple of Bachelor in Paradise finally decided to, well, actually be a couple. After going back-and-forth on whether or not he was ready to jump back into a relationship after getting his heart broken by Becca, Colton figured it was finally time to give Tia a chance. So, to anyone wondering "Are Tia and Colton together on Paradise?" The answer is yes — yes they are.
Prior to being the one to decide he and Tia were a couple, Colton told Tia that he was thinking of leaving Paradise. He said he would either date her or leave, since dating other women wasn't really an option for him, due to his history with Tia.
Colton had a talk with Bibiana about his relationship with Tia, and they both agreed how "good" his story with Tia is. From their romantic weekend date before he went on Becca's season of The Bachelorette, to Tia realizing her feelings for him after his hometown date with Becca, to their first date in Paradise — this couple has certainly been through a lot. And everyone on Paradise knows it, and is rooting for them to figure their sh*t out.
Colton realized, after getting closure from Becca visiting and explaining he was never the one for her, that it's time to give Tia a fair shot. Because clearly men are the only ones who can dictate when a relationship can start. But that's another conversation.
During their discussion in which they became a couple, Tia had a voiceover that shared she wanted Colton from the second he walked onto Paradise. This was a tad obvious to viewers from Tia's interviews from episode one. But, Colton arrived later than Tia, and she had to make do with her options for dates until he showed up in Mexico. While Tia may have known she wanted Colton all along, it took the former football player a little longer to get there. (Read: A few days at this point in filming.)
Even though on their date the week prior, Colton said he didn't know what he wanted, it appears that he finally realized his ticket to stay in Paradise (or continued relevancy) is dating Tia. After their chat, Tia raised her arms in celebration over Colton's choice to date her.
For Tia's dignity's sake, I hope she finds someone else to date — either in Paradise or IRL — who does not make her beg for a relationship with them. But for now, fans can celebrate with Tia that she finally got what she wanted: Colton.
So, yes, Tia and Colton are officially an item. Others involved in their love triangle (or square?) can sigh in relief that they figured it out. Colton, of course, gave his rose to Tia, making the ~It~ couple a done deal. Well, at least until the next rose ceremony. We know by now how quickly things can change in Paradise.