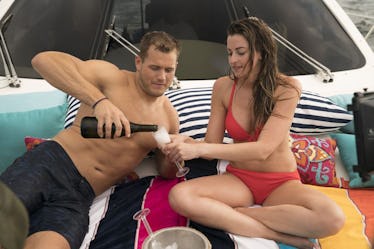 Tia Booth & Colton Underwood's Astrological Compatibility Shows They Could Be Fire
If you aren't watching this season of Bachelor in Paradise, you are missing out on some seriously juicy drama. If you are watching, then you know exactly what I'm talking about: Tia and Colton. Yes, it's the spicy kind of drama that only a franchise as twisted as The Bachelor could possibly create. This is the mother of all love triangles (Rectangles? Rhombuses? Can't keep track!). While this might make for some stellar TV, the verdict is out on whether or not these two should even end up together. Tia Booth and Colton Underwood's astrological compatibility makes it appear that they could be amazing together. Their actions, however? Maybe not so much.
But I'm getting ahead of myself. First, let me put you up to speed on what's gone down between these two. Both Booth and Underwood previously appeared on The Bachelor and The Bachelorette, respectively. After Booth's season of The Bachelor wrapped, she met Underwood, they went on a date, and Booth caught the feels for the former pro-footballer. As it turns out, this all went down in the lead-up to the most recent season of the The Bachelorette. Booth was reportedly in the running to be The Bachelorette, so Underwood (who had already been on a date with Booth) applied and got cast, but — plot twist! — Becca Kufrin (who Booth knew from their shared season of The Bachelor) ended up being cast as the Bachelorette. So, not only did Booth not end up the Bachelorette, but Underwood ended up really connecting with Kufrin.
When Booth showed up and confessed to Kufrin that she really does still have feelings for Underwood, Kufrin gave him the boot. Because, hello! Girl code! (But to be fair, Kufrin had much stronger connections with her remaining three suitors.)
Which brings us to the present, where Booth and Underwood are reunited on Bachelor in Paradise. If you think, "Wow, here comes a smooth sailing love!" think again. Underwood, who still has feelings for Kufrin but claims he wants to "keep his options open" to finding love on Paradise, isn't ready to get serious with Booth. All this, and we're only three episodes in! I told you this was juicy.
So, while Booth and Underwood's relationship is far from certain at the moment, what we do know is how astrologically compatible they would be if they could ever get on the same page. Booth's birthday is Aug. 11, which makes her a Leo, and Underwood was born Jan. 26, so he was born under Aquarius. Here's what we know about a Leo/Aquarius connection.