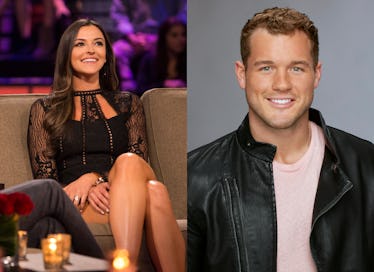 Here's Everything We Know About How Tia & Colton's Relationship Actually Started
ABC
No one can ever truly explain all of the multidimensional contestant bonds that result from the Bachelor franchise. Forget genuine first meetings on Bachelor in Paradise, because Bachelor Nation stars certainly aren't afraid to slide into the DMs of a man or woman who caught their eye on the latest season. The Bachelor web is thick and twisted, and its latest mess is between former Bachelor contestant Tia Booth and The Bachelorette's Colton Underwood. On the last Bachelorette episode, Colton confessed to Becca Kufrin that he had previously spent a weekend with Tia. What with the Arkansas native seeing him again alongside her Bachelor ladies on next week's group date, how did Tia and Colton meet?
Already in the semi-public eye before The Bachelorette because of his viral pursuit of Olympic gymnast Aly Raisman, Colton admitted to Becca that he had spent a weekend with Tia before her season began filming. His vague explanation didn't exactly ease Becca's nerves about the situation, and although she was a little doubtful about Colton's intentions, she gave him a rose at the end of the night. In her PEOPLE blog, Becca gave some insight into keeping Colton in the competition, writing:
I was truly conflicted in the decision to keep Colton and I remember making myself sick over the potential to jeopardize my friendship with Tia. I made the decision to keep him one more week but not feed anymore into our relationship until I was able to speak with Tia… you'll just have to wait and see.
By using a trail of internet clues, the likeliest explanation for how Colton met Tia is through social media. In January, the former football player tweeted out support for Tia while watching The Bachelor, suggesting that he pursued her soon into the season's airing but before Tia appeared on "Women Tell All" and the live finale.
Before Arie Luyendyk's scandalous breakup with Becca aired, Tia was definitely a frontrunner for the next Bachelorette — who could forget her "Women Tell All" couch interview that was essentially an audition for the role? Since it became clear that Becca was the next Bachelorette, Tia has basically been a lock for the next Paradise cast, but she'll first make an appearance on The Bachelorette that only complicates things with Colton more.
For now, we have the fishy timing of Colton and Tia's "relationship" to consider. Colton said that the two had their weekend together in January, and Becca's season began filming in March. According to Bachelor alumna Ashley Iaconetti, the final casting call for The Bachelorette is normally made in February, which definitely puts a shady twist on Colton's claims. Did he ditch Tia when The Bachelorette came calling, perhaps because he figured she would be the lead? If that's the case, Colton clearly didn't have trouble with the idea of being "that" guy with previous ties to the Bachelorette.
Well, as we all know, that scenario didn't happen, but Tia seemed OK with the decision.
Meanwhile, Tia's hometown BFF and Bachelor Season 21 star Raven Gates teased on Twitter that she knew the scoop about Tia and Colton. After initially saying that she wouldn't spill the tea, Raven then tweeted that she thought Colton was a good guy. Is that because he's currently dating Tia?
This Tia-Colton drama is definitely a little crazy and unpredictable right now, but Episode 3 of The Bachelorette will hopefully clarify the nature of their bond to Becca. And if Colton and Tia are meant to be, Becca has plenty of other men left in her Bachelorette sea.
The Bachelorette returns on Tuesday, June 12, at 8 p.m. ET on ABC.