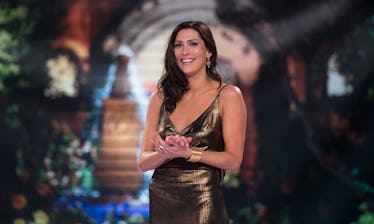 This 'Bachelorette' Contestant Dated A Famous Olympic Athlete, So Get Ready For Drama
ABC
Forget the software salesmen and personal trainers of past Bachelorette seasons. Season 14's popular career of choice appears to be NFL player, with both Colton Underwood and Clay Harbor representing the professional sport on the show. It ought to be interesting to see how athletics and reality TV combine this summer (and if Clay and Colton's involvement helps us convince the men in our lives to watch with us), but Colton is no stranger to having publicized experiences with love. The free agent tight end happens to be Olympic gymnast Aly Raisman's ex-boyfriend, and the two first got together after Colton made a very public gesture. Take note, Becca, this guy sounds like a true romantic!
In 2016, following Aly's victorious return to the Summer Olympics, the then-22-year-old was riding on a professional high. Not only did she score her second gold medal in the gymnastics team event, but Aly also scooped up two silver medals in the all-around and floor events. After the Rio Games came to a close, Aly was introduced to Colton, then an Oakland Raiders player, via a YouTube video in which he asked her about going on a date with him. The two had mutual friends in common – Colton's old NFL teammate Andrew East is married to former U.S. gymnast Shawn Johnson. The football and gymnastics worlds are clearly very small ones.
In the video showing Aly's reaction to Colton's greeting, Aly even asks someone off camera, "Did Shawn put you up to this?" Sounds like the girls were definitely giggling about Colton over text long before he sent Aly this video.
After Aly agreed to the hypothetical date offer in the video, ESPN later reported that the two secretly began dating in late August 2016 after meeting for the first time in Denver, Colorado. By the sound of it, Colton is totally ready for the romantic whirlwind of The Bachelorette, as Aly revealed to PEOPLE:
We happened to both be in Denver at the same time. I was there for less than 12 hours, he was flying in for just a few days. It just ended up working perfectly.
This means that he's perfect for a surreal helicopter date to the mountains, right?
The couple also made a few red carpet appearances together, including one at an event promoting the Golden Globes in January 2017. If you're one of those fans who thinks the ABC cast photos are always super unflattering, Colton looks far more attractive in this video, so I'll forgive him for that bizarre-sounding breakfast he describes in this interview.
Reports of Colton and Aly breaking up first hit the press in June 2017, with Colton telling the Peoria Journal Star:
We're taking a break right now. We're still good friends and talk, but all that travel had been a nightmare. It ended fine. We're in a good place.
At the time, Colton trained for football in Colorado, while Aly trained in Massachusetts. Colton's Instagram bio currently describes himself as a "former NFL try hard," suggesting that he doesn't have a very specific career path at the moment. What do football players who retire at 26 end up doing for the rest of their lives?
Although he's a frequent poster of dog pictures, Colton has also spent time with some of Aly's former teammates in the past. In May 2017, he posted a photo of himself with gold medalist Simone Biles, who was dressed as Moana for a Disney-themed party.
Given that Colton and Aly's split sounds amicable, I have so many questions about this Bachelorette season. Will Aly live tweet episodes and throw funny shade? Will Colton open up to Becca about a past "public relationship?" Will he always appear in a show interview with a toy football in hand? I need some answers!
Season 14 of The Bachelorette begins on Monday, May 28, at 8 p.m. ET on ABC.