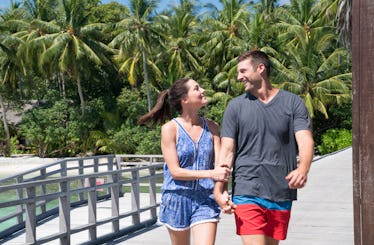 Here's Everything We Know About Why Becca Chose Garrett On 'The Bachelorette'
ABC
The roses have been pinned and both happy and sad tears have been shed. Bachelorette Becca Kufrin watched Garrett Yrigoyen get down on one knee in front of her, and she said yes to a lifetime of his family farming business and Chris Farley impressions. Seeing as how emotional Becca's connection with runner-up Blake Horstmann often was, Becca picking Garrett came as a bit of a surprise to some fans, so why did Becca pick Garrett?
Viewers who are well-versed in their Bachelorette history may have felt more inclined to peg Garrett for victory on their fantasy brackets. The past three Bachelorettes all became engaged to the men who received their first impression roses, which the former leading ladies pointed out when they visited Becca at the start of the season. When Garrett's minivan entrance and makeshift fishing pond earned himself the first impression rose on Night One, he instantly became a frontrunner.
Fans soon discovered Garrett's controversial Instagram likes of photos mocking feminists, trans people, and the Parkland shooting victims, among others. Garrett issued an apology for his actions, saying:
I am sorry to those who I offended, and I also take full responsibility for my 'likes' on Instagram that were hurtful and offensive...I am not perfect, and I will never be anywhere close, but now I will always be more informed and aware of what I am and supporting, not just on Instagram, but in life.
Seeing as his public statement was unprecedented in Bachelor Nation, many fans began speculating if him apologizing meant that he made it far in the competition. Well, they cracked the code, but before his likes became public, Becca found immense comfort in her relationship with Garrett.
Often comparing him to her late father, Becca saw Garrett as someone very familiar who would fit in well with her everyday life. As the season progressed, Garrett spoke more about his short-lived first marriage, citing his wife's emotional abuse toward him and their mismatched values as why they divorced. Becca took the news in stride, but the announcement did cause worry about whether Garrett was ready for marriage again. Although the cast obviously didn't know about this when filming, Bachelorette audiences were also skeptical about the 29-year-old medical sales rep's social media controversy and whether he would be compatible with the openly liberal Becca.
Of course, seeing as Becca regularly greeted Garrett by throwing her legs around him, her reservations about him never seemed to cloud her judgment too much. Throughout the finale episode, she spoke about Garrett's positive energy and how he makes it easy for her to envision a future together. Meanwhile, Garrett was sometimes rendered speechless by his love for her, which is pretty on par with his iffy record of expressing himself on the show.
While bringing Garrett to meet her family, Becca emphasized how positive he always made their encounters. In her one-on-one talk with her mom, Becca admitted she could be "all of Becca" with him. Garrett even teared up in a talk with her uncle Chuck (Gary apparently sat this one out) about his family's history with cancer and loving Becca. Although her family called Garrett "a risk," Becca still seemed drawn toward him.
On their last date, Becca compared Garrett to her dad again, mentioning that "it feels like a little bit of home" with him. Garrett also felt her dad's presence when speaking with Mama Kufrin, and his night with Becca actually seemed to have an emotional, easy connection that explained why he was the more natural fit for her.
After officially eliminating Blake, Garrett showed up in his victory boat, confirming what Becca saying goodbye to Blake already told us — Becca is the future Mrs. Yrigoyen. She could picture their kids and, yes, him driving that minivan. In Becca's own words, "I'm so ready for this."
As she said at After the Final Rose, Becca's engagement ring was beautiful, but most importantly, she won her guy in the end. She and Garrett couldn't help but grin like lovesick teens in their one-on-one time with Chris Harrison, and Becca spilled that Garrett's hometown date was crucial in her falling in love with her. After meeting Garrett's sister and nieces at the California airport, the encounter left her so emotional that Becca knew there was something there between them.
At the end of the day, only the people in a relationship know why they click, and Becca and Garrett seem to be floating away to Cloud 9 together. Congrats, you crazy kids!