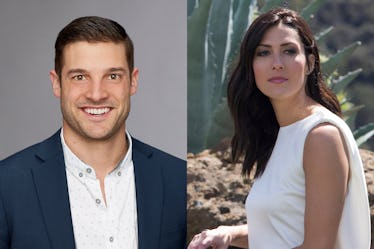 Garrett From 'The Bachelorette' Broke His Silence On The "Offensive" Posts He Liked On IG
ABC
The days following the Season 14 premiere of The Bachelorette have been a whirlwind, to say the least. Just as Episode 1 ended, word spread online that Garrett Yrigoyen, the winner of Becca Kufrin's first impression rose, had liked offensive Instagram posts mocking feminists, trans people, and the Parkland shooting victims, among other things. Given the past three years of first impression winners ultimately becoming their Bachelorette's fiancé, snagging that coveted rose speaks wonders about how far a man might make it in the season. Realizing that he's a serious contender for Becca's heart, fans instantly put Garrett under intense scrutiny for his link to the controversial posts. Now, Garrett from The Bachelorette apologized for the posts he liked on social media.
On May 31, the 29-year-old medical sales rep released an apology on his new Instagram account. HuffPost reports that the account Garrett used to like the controversial posts was made private and then deleted when another now-private account posted screenshots of Garrett's social media history. Now using the Instagram handle gy_yrigoyen, Garrett has kept the page quite simple so far, only sharing his Bachelorette cast photo and, now, his public apology.
He wrote:
I am sorry to those who I offended, and I also take full responsibility for my 'likes' on Instagram that were hurtful and offensive. garrett_yrigs12 was my former Instagram handle and I decided to take it down and start fresh because I have learned an extremely valuable lesson and am taking steps to grow, become more educated, and be a better version of myself. I am not perfect, and I will never be anywhere close, but now I will always be more informed and aware of what I am and supporting, not just on Instagram, but in life.
The Reno resident also admitted to not understanding the power of a "like" on social media, saying:
Let my mistakes be a lesson for those who mindlessly double tap images, memes, and videos on any social media content that could be many things including hurtful, degrading, and dehumanizing. I do not want my social media to define who I am, and I will take better care moving forward to support all walks of life.
Garrett's comment comes hours after Becca began discussing the social media snafu with press outlets. She told Entertainment Tonight:
I want viewers to be open to everyone, and I want them to go through this season with me and watch my love story unfold with all of these men... because that's how I went into this journey... I can't fault on anyone for what they believe and who's to say that anyone is truly what they believe in if they just double tap. I can't speak to that because that's just not me. I am a strong woman and I do believe in certain things, but again, that's what's so great about our country — everyone is entitled to their own opinions.
Understandably, the incident put the leading lady in a tough spot. She can't spill about any specifics of her season, yet her giving Garrett that first impression rose during filming immediately put the controversy in a highly publicized light. On Rachel Lindsay's Bachelorette season, contestant Lee Garrett came under fire for his racist tweets, but as he was already receiving a bit of a villainous edit on the show, those repercussions don't exactly measure up to how Garrett's controversy may play out if he becomes a true Bachelorette finalist.
We may have to wait and see how Becca and Garrett's televised journey plays out, but I applaud Garrett for owning up to his mistakes.
The Bachelorette returns on Monday, June 4, at 8 p.m. ET on ABC.