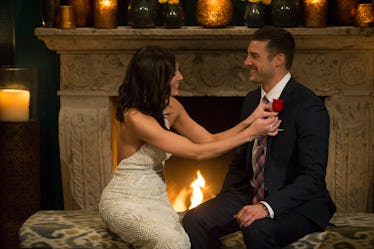 'Bachelorette' Becca Kufrin Just Broke Her Silence On Garrett's Social Media Scandal
ABC
It wasn't too long before this season of The Bachelorette delivered some inevitable drama, but this time, a scandal played off-screen before the premiere episode had barely ended. Frontrunner Garrett Yrigoyen has caused trouble with the show's fans for allegedly liking offensive Instagram posts on a now deleted account, and until now, neither Becca Kufrin nor ABC had commented on the scandal. Our newest Bachelorette has finally spoken up about the Instagram snafu, but Becca's comments on Garrett's social media scandal are a little confusing.
As originally reported by HuffPost, franchise fans discovered before the season premiere that Garrett had allegedly liked Instagram posts mocking trans people, immigrants, feminists, and the Parkland shooting victims. As per Becca's Instagram photo of attending the Women's March and her Joe Biden header on Twitter, many in Bachelor Nation have assumed that she has more liberal political views, which makes this social media news and Garrett receiving her first impression rose quite cringe-worthy. After all, The Bachelorette is on a three-peat streak of first impression winners ultimately becoming the lead's fiancé, which puts extra scrutiny on Garrett's alleged actions.
Screenshots of Garrett's likes were shared on a now private Instagram account, while former Bachelor contestant Ashley Spivey brought the images to the public's attention on Twitter. Meanwhile, the account allegedly belonging to Garrett was made private and then deleted, but Garrett is reportedly now back on Instagram under a new screen name.
Whew. And we haven't even seen a single Bachelorette date yet.
In a recent interview with Entertainment Tonight, Becca shared what she thought about the budding controversy...well, sort of. She told ET:
I want viewers to be open to everyone, and I want them to go through this season with me and watch my love story unfold with all of these men... because that's how I went into this journey. I did things in the past that I'm sure wasn't the best thing, but I just want people to stay open-minded to everyone.
OK, that's understandable. But given the content of the posts Garrett allegedly liked, Becca admitted that if such reports were true, she would "confront" any guy she dated about these views, saying:
We would have a discussion about it. We would get to the bottom of it and we would find a solution. I can't fault on anyone for what they believe and who's to say that anyone is truly what they believe in if they just double tap. I can't speak to that because that's just not me. I am a strong woman and I do believe in certain things, but again, that's what's so great about our country — everyone is entitled to their own opinions.
Becca seems to say that judging people based on social media is wrong, which is partially true. However, at a time when a single tweet immediately led to the cancellation of ABC's widely-received Roseanne, social media definitely has a firm hold on the way things play out in real life. With so many controversial topics represented in Garrett's allegedly liked photos, does Becca preaching about open-mindedness really help the situation? Given the spotlight Garrett received in Episode 1, his likelihood of making it far in the season is also strong, which probably puts Becca in a tough spot when responding to the situation.
ET also spoke to ABC's Senior Vice President of Alternative Series, Specials & Late-Night Programming, Robert Mills, about the controversy. The network received some flak last year when Bachelorette Season 13 contestant Lee Garrett was found to have tweeted racist messages, particularly stirring up anger because he was competing for the first black Bachelorette's heart. As Lee was never a frontrunner for lead Rachel Lindsay, this year's scandal is already being treated in a different light. Mills told ET:
It's an alleged account. And it's likes, it's not things he's actually posted, which are things you actually can't scrub for unless the person has a certain number of followers... Obviously we want to know every single possible thing about these contestants. So, we're working harder. I mean, it is such a new frontier, social media, and I think it's important for us to really be on top of this stuff, and certainly we never want a situation like what happened last year with Lee to ever happen again... We are here telling everybody we are putting the best men and women forward for the lead to date, so I think we want to make sure we are absolutely doing that.
"Working harder?" Come on, ABC, you know you can do better.
Garrett has yet to speak about his own social media history. The Bachelorette returns on Monday, June 4, at 8 p.m. ET on ABC.