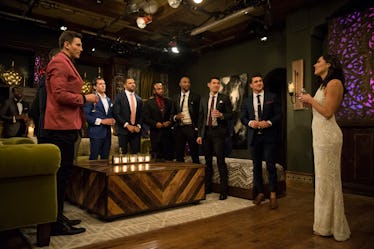 The First Impression Rose On 'The Bachelorette' Could Be A Major Clue About The Winner
ABC
Can we all agree by now that the leads on The Bachelorette are infinitely better in finding their soulmate on the show than men on The Bachelor are? Three past Bachelorettes are married to their Final Rose picks and another three are still engaged to the men they selected on TV. The engaged Bachelorettes even have an interesting coincidence in common, and the same pattern could continue on Becca Kufrin's season. Based on her pick of Garrett as the receiver of the first impression rose, does Garrett win The Bachelorette? For the past three seasons, the winner of the first impression rose has signified a big clue about who the Bachelorette picks in the season finale.
On Becca's premiere episode, former leading ladies Kaitlyn Bristowe, JoJo Fletcher, and Rachel Lindsay all stopped by to offer Becca advice about her new role. While most recent Bachelorette Rachel is planning her wedding with fiancé Bryan Abasolo, Kaitlyn and JoJo have taken things slow with their own Bachelorette partners, Shawn Booth and Jordan Rodgers. The women reminded Becca that each of their first impression rose picks ultimately became their fiancé, which is a pattern that has really only solidified in the past three years. Coincidence or woman's intuition? I lean toward the latter.
To be fair, the Bachelorettes leading up to this three-year streak still made first impression picks that proved strong for the majority of the season. Andi Dorfman gave her rose to Nick Viall, who finished in second place before...coming in second again to Kaitlyn's first impression pick, Shawn, the next year. Desiree Hartsock, now married to her Final Rose pick Chris Siegfried, was given the option of rewarding several first impression roses, and two of her final four men (neither of them being Chris) received roses. So, yes, all ladies have some sense of who is right for them even upon a first meeting.
Given how random some receivers of first impression roses can be, it's pretty extraordinary that Kaitlyn, JoJo, and Rachel all nailed down the guys meant for them on Night One. If there's anything that Becca has displayed throughout her Bachelor Nation journey, it's that she was always confident in her decisions. Now with America's support behind her, she trusts her intuition even more, and we saw her gut feelings play out when she gave her first impression rose to Garrett.
That being said, after Episode 1 showed such cute footage of Becca and Garrett together, it isn't hard to believe that he could finish this season as Becca's fiancé. The 29-year-old medical sales rep showed up in a family-ready minivan, which I'm hoping speaks to how seriously he views the Bachelorette process. Garrett also reminded Becca of home and growing up with her dad, which is total fiancé material. Between the minivan and the makeshift fishing, Garrett truly worked for that first impression rose, which backs up the likelihood that he could be Becca's final pick.
As for any first rose patterns in the history of The Bachelor, they don't seem to even exist. Some of the receivers of the Bachelor leads' special roses have included women who eventually had non-existent edits (Chelsea on Arie's season), became the "villain" (Olivia on Ben Higgins' season), and, in one case, even lost a vote to become the next Bachelorette (Britt from Chris Soules' season). Kudos to Nick Viall for awarding our very own Rachel with his first impression rose, though. Seeing as this search through the most recent Bachelor first impression winners makes Nick the wisest lead, I have even more respect for the Bachelorette women and their successful selections. Want to keep the trend going, Becca?
The Bachelorette returns on Monday, June 4, at 8 p.m. ET on ABC.