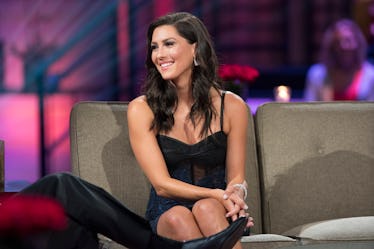 Becca's Engagement Ring Is So Stunning, It Will Literally Blind You
ABC
You know it's officially the end of a Bachelorette season when Neil Lane and his traveling case of jewelry are rolled out for the final two men. Just like clockwork, Lane had oceanside meetings with Garrett Yrigoyen and Blake Horstmann for them to pick their potential engagement rings for Becca Kufrin. Becca ultimately picked Garrett as her fiancé, and she happily debuted her new rock at the live After the Final Rose special. Becca's engagement ring is stunning, as all Bachelor Nation rings should be, and she's definitely thrilled to show it off to Bachelor Nation.
Now, this obviously isn't the first time Becca has had a shining Neil Lane ring on her finger. According to PEOPLE, Arie selected a 3-carat oval diamond ring for Becca, and after proposing to her in Peru and subsequently breaking up with her, Becca didn't get to keep the ring. Such is the rule in the Bachelor franchise — couples have to stay together for two consecutive years for an engagement ring to officially be theirs. While it may seem like forever since Kaitlyn Bristowe and JoJo Fletcher's Bachelorette seasons and engagements, Kaitlyn's ring has actually only been hers for a year, and JoJo's two-year deadline ought to end any day now. Hopefully, Becca won't have to go through that painful return process any time soon.
This time around, Garrett's time with Neil Lane resulted in him selecting a gold sparkler. I don't think any girl in this national spotlight is going to vocally complain about the ring her guy gets her, so it wasn't any surprise when Becca raved about how beautiful the ring was after Garrett presented her with it. In the worst case scenario, she can always trade out that ring for a different one once it's officially hers in two years.
When he selected the ring, Garrett instantly connected its meaning to how Becca has helped him get through his past and accepted his identity as a divorced man. In his eyes, the ring symbolized the past, present, and future, but had particular emphasis for the future — aka their lives together. Keep note of that speech for your wedding vows, Garrett!
Feeling lucky to have Becca in his life and ready to give her his "all," Garrett reminded her of his minivan entrance on Night One and his fly-fishing setup in the mansion's pool. When talking about their future together during the show, Garrett knew he loved her. After he had his time to speak, Becca admitted not knowing whether she'd find her person on The Bachelorette, but she instantly felt a connection with him. Garrett was even the first contestant she wrote about in her journal, so these women totally know what they're doing when they pick who receives the first impression rose. JoJo, Kaitlyn, and Rachel are definitely waiting with a bottle of wine somewhere to welcome Becca to the Bachelorette First Impression Club.
Before Garrett got down on one knee, Becca obviously had to say her ultimate "I love you." It just isn't right if you haven't said it until right before your guy proposes, right? When Garrett finally popped the question, she said yes to the tune of the sweeping orchestral Bachelorette music. Ah, a fairy tale ending!
Congratulations to Becca and Garrett! May your future be filled with Chris Farley impressions and doing all the damn things.