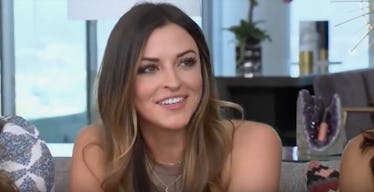 Tia & Becca's Conversation On 'The Bachelorette' Has Bachelor Nation Fully Shook
ABC/YouTube
She's baaaack. In this week's edition of the Colton/Tia/Becca story, a familiar face stepped back on the scene and boy, did she spice things up. Tia's appearance on The Bachelorette Season 14: Round 2 went from an innocent meet-up to a bombshell revelation of a moment. In fact, the former Bachelor contestant and future Bachelor in Paradise cast member changed the game for Becca when she confessed her true feelings about Colton.
After going to hometowns to meet the final four's — Garrett, Jason, Blake, and Colton — families, Becca had some girl time with some contestants/pals from Bachelor Season 22, including Tia. As Becca regaled them with romantic tales of the guys she was falling for, it was obvious from Tia's expression that she had something on her mind.
"I just have to be fully out there and put it out there because it's been weighing on me," Tia admitted, after pulling Becca aside. Then she dropped the bomb... she still has feelings for Colton.
"It makes me sick to my stomach," Tia revealed, explaining that hearing that Becca got to meet his family and spend more time with him was hard to listen to.
Um, talk about awkward. How did Bachelor Nation react?
Hometown dates are always make-it-or-break-it for the competitors on this show, but this situation feels a little different from dealing with a concerned sister or facing a protective dad. A friend expressing their interest in one of the finalists? Not a great position to be in.
"I never saw that coming. I thought we put that to bed weeks ago," Becca said after walking away from the conversation. Join the club, Becca! "It hurts to hear."
"I don't want to lose any friendship over a guy," she added.
Tia has been somewhat of a roadblock in Becca and Colton's budding relationship since close to the start of the season. Colton revealed he and the Arkansas native had a short-lived fling prior to filming, but assured Becca that was all history. He told her in Season 14's second week:
Prior to coming on to this in January, I had a relationship with Tia and I wanted to make sure to explain sort of that we had a weekend together, but for me the timing wasn't right to grow what was a spark into a flame. If my feelings were strong enough I wouldn't have come on this.
In week 3, Tia got the chance to open up to Becca about her past with Colton at a spa group date that included former Bachelor contestants and friends of Becca's, which allowed Becca to get some much-needed clarity. All was well and she and the football pro could keep building a connection. Or so she thought.
"This was the moment that I would make the decision to move forward with Colton or move on from him. After speaking with Tia, I felt a weight lifted off my shoulders. I felt like I truly had her blessing to continue things with Colton, but more importantly, she assured me that she was OK and encouraged me to have an open mind and open heart," Becca wrote about their conversation in her People blog.
Tia spoke to People about Colton before the episode aired, outlining the timeline of their relationship. The pair began talking before he was cast on Becca's season and met up for a weekend in Los Angeles, but decided to cut things off when he was confirmed. She explained:
I DM'd him first and within a few days he told me he had applied to be on The Bachelorette. But he hadn't gotten the final call so we thought, we get along well, we might as well just keep talking and doing whatever this is. The whole time I kept thinking, 'What are the odds that he would get on the show?'
Then Bachelor Nation's eyebrows were collectively raised when photos of the two of them surfaced allegedly on a date during Bachelor in Paradise.
Now that the cat's out of the bag and Tia has put her true feelings for Colton out there, who knows what could happen between the pair? Intrigued fans will certainly be watching.