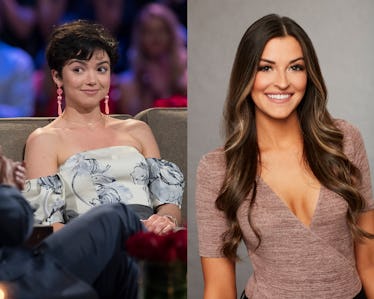 Bekah M. Dragged Colton & Tia On Twitter After They Were Seen In 'Paradise' & It's A Lot
ABC
Oh, Bekah M. It feels like only yesterday that we were following the bizarre story of your "disappearance" after working at a marijuana farm, and now you're back in the Bachelor Nation stratosphere. Of course, Bachelor fans were always expecting the now-23-year-old Bekah Martinez to pop up on Season 5 of Bachelor in Paradise, which is currently filming in Mexico, but now it seems that she's still at home. In true Bachelor fashion, she made it clear that she wasn't filming Paradise in a dramatic way. Bekah M. dragged Colton and Tia on Twitter after they were seen in Paradise together, and I'm here for this tea spilling.
On last week's Bachelorette episode, both Bekah and Tia Booth visited fellow Bachelor Season 22 star Becca Kufrin for a group date along with some other Bachelor ladies. The men on the date pampered the women with spa treatments, but the true purpose of the meeting was for Tia to see her ex Colton Underwood again. Although Colton seems to change his version of events whenever Becca asks, Tia assured Becca that their fling was fairly chaste and short-lived (Colton called it a relationship, but OK). Colton also insisted that he was on the show for Becca rather than the old possibility of Tia as Bachelorette.
It sounds like the conflict was resolved, right? Well, Bekah M. has added some fuel to that dying fire.
After spoiler guru Reality Steve shared fans' photos of Colton and Tia on a Paradise date, Bekah M. tweeted one of the pictures on Friday morning. The message accompanying the tweet was... interesting.
Whew. I don't know about you, but this message sends my brain into dozens of different directions.
Firstly, given the timing of the photos' release, it makes sense that Bekah is poking fun at their situation. We watched Colton and Tia plead loyalty to Bachelorette Becca less than a week ago, even though the moment was filmed several months ago. However, if Colton is on Paradise, things clearly didn't work with Becca, and he's free to pursue whoever he wants. Becca has also repeatedly shared how happy she is with her mystery fiancé, so it's not like Colton pulled an Arie on her.
There's also always the possibility of Bekah knowing some behind-the-scenes dirt and believing that Colton and Tia always intended to hook up in Paradise. Knowing the truth to this complicated scenario has probably led to some sour feelings for Bekah. After all, Tia suggesting that Bekah wasn't ready for marriage played into Arie Luyendyk sending the latter home on The Bachelor, and even though they've hung out in groups on TV since then, it seems that things aren't exactly rosy between the two women.
At last season's "Women Tell All," Bekah was even a little emotional when discussing Tia's accusation and fans' overall response to her young age. Is Bekah now annoyed about how Tia handled the Colton situation on The Bachelorette?
Perhaps most importantly, why isn't Bekah in Paradise? Her tweet about Tia and Colton was the first post on her account since May 26, which definitely hints that she may have been in Mexico for a brief time. If this is the case, I would love if Bekah's Paradise storyline consists of her calling out all the flaws of Becca's men and choosing to go home on her own. Clearly, she knows what she wants and who she is, and it doesn't look like Bekah would settle for an inadequate relationship.
Based on the replies to her Tia and Colton tweet, she's also a fierce supporter of her true friends. When a fan mentioned hopes of Season 22 contestant Kendall Long finding love in Paradise, Bekah backed up the message.
I can't say that I didn't see Colton and Tia's Paradise relationship coming, but Bekah commenting on it adds a whole new dimension to the situation. We may not know about all of the hidden layers in her dramatic tweet, but this season of Bachelor in Paradise looks like it's not to be missed.
The Bachelorette returns at 8 p.m. ET, Monday, June 18 on ABC.