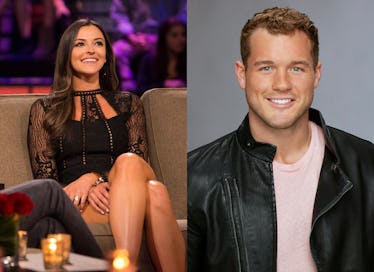 Colton & Tia Went On A 'Bachelorette' Group Date Together & It Wasn't What You Think
ABC
At this point, you'd think that very little can surprise us on The Bachelorette, but the mess that is Colton Underwood and Tia Booth's pre-show relationship has definitely got me flustered. After Colton confessed to Becca about his past with Tia last week, Episode 3 brought the two exes back together. Colton and Tia went on a Bachelorette group date together, and it was far from what Bachelor Nation expected.
From the perspective of someone stuck in the Bachelorette bubble, Colton's connection to Tia would definitely be a little concerning, but viewers also have the outsider knowledge of his past relationship with Olympic gymnast Aly Raisman. I'd have to ask a major football fan to decode Colton's sports career for me and determine whether it was successful, but it certainly sounds like he's after a lady in the spotlight. Luckily, Colton sought to explain himself when trapped on — I mean, enjoying a group date with the guys, Becca, and several of her Bachelor friends, including Tia.
The scenario was awkward from the get-go as Becca tried to wrangle some explanation out of Tia before her men arrived for the date. Tia admitted that she and Colton dated before Arie's Bachelor season aired, even fessing up to the idea that Colton may have pursued her thinking that she'd be the next Bachelorette. While the other women pretended that they didn't have this conversation before cameras were rolling, Tia shut down about the matter until the men showed.
Understandably, Colton freaked when he saw Tia at the date, calling it his "worst nightmare." Cue more awkward shuffling and red faces. Jason and Colton then had a manly talk near a fountain about his past with Tia, and Jason the love guru persuaded him to understand Tia's perspective of the scenario. Yet, the two exes weren't even shown talking to each other on the date. That's a little concerning, no?
Meanwhile, Becca noticed the elephant in the room, taking Tia aside to talk about Colton. Tia claimed that all they did was kiss and that they never really talked about their relationship status. Someone definitely has their lines of communication crossed when it comes to this issue.
Within days of meeting each other, Colton shared with Tia that he was applying for the show. When telling Becca this, Tia still seemed a little vague about her own feelings, but the girls hugged it out, leaving Becca to interrogate Colton about whether he came on the show for Tia as the lead.
On the night portion of the group date, Becca finally confronted Colton about Tia, but I have to applaud her never badmouthing Tia at all throughout this process. When she asked Colton if he still had feelings for Tia, Colton insisted that he was there for Becca, wanting to be totally honest with her from the start. As Colton said in an interview, "I want her to know that I'm not Arie." Well, you've definitely limited your cardigan wearing, so that's a good sign.
Becca bought his story, awarding him with the group date rose. And thus another chapter of Bachelorette drama ended...or did it?
Before Episode 3 even aired, Tia took to PEOPLE with her explanation of their meeting, but the interview matches her on-camera confession almost word-for-word. Colton seems to be a little fishy with his storytelling, but Tia is totally on point. She told the outlet:
We started talking before my season started airing. Colton was in the casting process for The Bachelorette, and he followed me on Instagram. I DM'd him first and within a few days he told me he had applied to be on The Bachelorette. But he hadn't gotten the final call so we thought, we get along well, we might as well just keep talking and doing whatever this is. The whole time I kept thinking, 'What are the odds that he would get on the show?'
I'm a little curious about how quickly Colton moved in on Tia in between the casting reveal and The Bachelor premiere, but perhaps this mystery is one destined to have some inexplicable twists to it. Juicy drama in Bachelor Nation is never over until a couple says "I do" — well, at least so far.
The Bachelorette returns on Monday, June 18, at 8 p.m. ET on ABC.