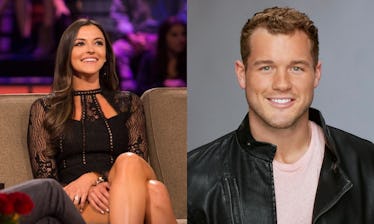 Bachelor Nation Is Already Asking Serious Questions About Colton & Tia's Current Status
ABC/Craig Sjodin/Paul Hebert
The mysterious romantic tale of Colton and Tia is still in the Bachelorette air, as evidenced by the promo for next week's crucial hometown episode. Becca's friend and former fellow contestant from Arie's Bachelor season is set to return for more screen time, so get ready for this seemingly never-ending saga to rear its awkward head. What is going on with this couple? Is there more than meets the eye? And are Colton & Tia dating after Paradise? Bachelor Nation has so many questions about their relationship status at this point, considering the drama surrounding them hasn't exactly slowed down from the get-go.
"I just had to, like, be honest," Tia remarks in a sneak peek of Bachelorette Season 14's eighth episode. "It makes me sick in my stomach."
Wait, what is Tia doing at hometowns?! It appears Becca will be spending some more quality time with pals/franchise alums like Bekah Martinez and Kendall Long, and Tia will be pulling her aside to clear the air about something. Didn't this all happen in Episode 3? Um, apparently, there's more that needs to be said.
"I never saw that coming," Becca then says to the camera. "I feel terrible."
What is going on?! Do Tia and Colton have unfinished business?
This potential bombshell of a reveal comes after rumors swirled last month reporting Colton and Tia were getting cozy on Bachelor in Paradise. Colton and Tia admitted to striking up a short-lived relationship prior to filming for Becca's season — the situation was even discussed on The Bachelorette ad nauseam. Colton explained to Becca:
Prior to coming on to this in January I had a relationship with Tia and I wanted to make sure to explain sort of that we had a weekend together, but for me the timing wasn't right to grow what was a spark into a flame. If my feelings were strong enough I wouldn't have come on this.
Tia made an appearance on The Bachelorette's third episode, further elaborating on what went down with the pro football player in a heart-to-heart that assured Becca their fling was completely in the past. Case closed? Eh, not quite.
Spoiler-y alleged BIP photos surfaced in June — courtesy of Reality Steve — that showed Colton and Tia on what appeared to be a date in Mexico. This led fans to question their intentions and outspoken Bekah (who competed alongside both Becca and Tia on The Bachelor) to weigh in on the head-scratching matter.
Bekah later apologized for the comment, admitting she regretted blasting Tia and Colton on social media.
Colton has not been announced as a cast member for the summer's BIP — he's currently one of the final four suitors in the running to win Becca's heart on The Bachelorette. Nothing has been confirmed regarding his BIP fate, but obviously, that didn't stop people from talking. One thing that is for certain: Tia is indeed in the Season 5 Paradise cast, so at least one half of the duo in question will be looking for love in Mexico. Hmm.
Tia apparently doesn't even follow Colton on Instagram. That doesn't necessarily say anything about where they actually are romantically these days.
Tia may not follow Colton, but one eagle-eyed Twitter user noticed she did comment on one of his posts as recently as July 7.
Tia also called out so-called "fake news" (and I don't think she's referring to politics here) via her own tweet last month, so who knows what's real and what's just Bachelor Nation speculation right now.
And Colton and Becca clearly have grown closer throughout her Bachelorette journey — on Monday's episode, he opened up about his virginity and she appreciated his honesty.
It looks like next week's hometown extravaganza might provide some more insight on what's going on, or at least what went on, with Tia and Colton. Fans will have to sit tight for that and Bachelor in Paradise to get the true scoop on this sticky relationship web.
Bachelor in Paradise Season 5 debuts Tuesday, Aug. 7 on ABC.