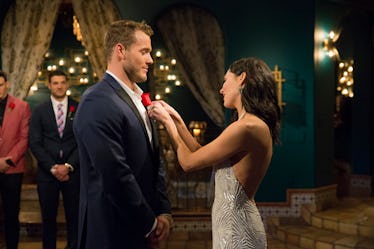 Colton Revealed He's A Virgin To Becca & Her Reaction Left Bachelor Nation SHOOK
ABC
Thanks to the hefty teaser shared at the beginning of Becca Kufrin's season of The Bachelorette, we always knew that hunky former football player Colton Underwood was going to reveal he was a virgin. This week, on their one-on-one date in the Bahamas, Colton finally spilled his secret, and Becca's reaction to Colton being a virgin has Bachelor Nation experiencing a lot of emotions.
Seeing as he has apparently gabbed about being a virgin to all of the other men in the house, it was only right for Colton to finally confess the truth to Becca. On the night portion of their date, he brought up putting his professional life before his personal commitments for a long time, and doing so slowed down *that* side of things. Him never having sex caused some conflict in his past relationship (*cough* Aly Raisman), but sharing the information with Becca was a huge step for Colton, emphasizing how serious their own bond was becoming.
When he spilled the beans, Becca seemed surprised — I mean, have you seen Colton? The news was definitely a shock for Bachelor Nation when we learned about it back in May. Although her initial reaction was impulsive, she made up for it slightly with her next response. In true classy fashion, Becca said, "Thank you for telling me," but then proceeded to take a minute outside by herself. OK, that wasn't quite the suavest move. Cue Colton's panic sweats!
When she returned, Becca rectified the room's tension, saying that she didn't want to pressure Colton into anything outside of his comfort zone. If there's anything we've learned about Becca this season, it's that she knows how to talk maturely through a situation, and her discussion with Colton was a prime example of both parties acting (somewhat) like adults. About time, right?
Although Colton definitely emerged as the victor of this conversation with his memories of trying to fit into locker room culture, Becca's reaction is drawing some mixed thoughts from fans. Although some appreciated that she let him share as much as he wanted, others think that she came across as judgmental in the moment, and they even pointed out the irony of the cross tattoo on her hand.
On the other hand, people who seem indifferent about Becca's reaction or haven't commented about it called out the men for thinking that Colton's virginity would be an instant dealbreaker for Becca. Former franchise mainstay Ashley Iaconetti might have built her own personal brand on being a virgin, but does that label really have to mean that much? Some viewers in Bachelor Nation didn't seem to think so.
If you scroll through The Bachelorette's Twitter hashtag, you'll probably find an even broader range of opinions about Becca's comments. To some, Becca's response was totally out of line, while others found it just a tad unsettling. At the end of the date, she did offer him the rose, seemingly meaning that Becca accepted Colton and all the baggage (or lack thereof) that he came with. That has to be a good sign, right?
Although the other contestants were surprised about Colton's return and the dark mood it brought on the group, I don't think any fans were really shocked about Colton scoring himself a rose. We'll have to wait and see how his hometown date goes next week to determine if he has a shot at those notorious fantasy suite dates. Do you think his parents will accidentally call Becca "Tia"? Talk about an awkward first meeting.
The Bachelorette returns at 8 p.m., Monday, July 16, on ABC.