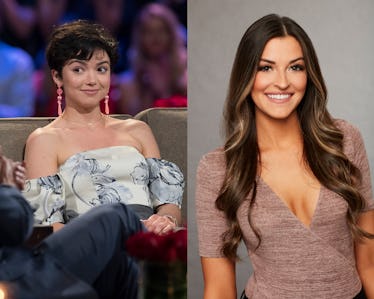 Bekah M. Apologized For "Blasting" Colton & Tia On Twitter, But Fans Are Loving The Drama
ABC
There's nothing like sitting back and watching someone spill some Bachelor Nation tea on your Twitter feed. Recently, it was Bachelor Season 22's Bekah Martinez who delivered the drama when she called out Season 22 star Tia Booth and current Bachelorette contestant Colton Underwood for dating on Bachelor in Paradise after telling Becca Kufrin on TV that they were over each other. It sounds like a relatively minuscule scandal compared to what else is going on within the franchise, but Bekah's tweets still caused quite the stir. Bekah M. has apologized for "blasting" Colton and Tia on Twitter, but some fans totally didn't mind her callout in the first place.
Last week, Bekah cleared up any rumors that she was currently filming Season 5 of Bachelor in Paradise by sharing a photo of Tia and Colton on a date in Paradise. The photo, which spoiler guru Reality Steve originally posted, wasn't very settling to Bekah, who called out the pair for getting together after saying on The Bachelorette that the timing of their pre-show relationship wasn't right. In replies to outraged fans, Bekah hinted that her sudden shoutout was also based on circumstances unknown to viewers.
Her tweet even attracted the attention of Tia's BFF and fellow Bachelor alum Raven Gates, who came to her friend's defense in Tia's presumably Paradise-inflicted absence from social media. Raven eventually deleted those particular tweets, but Bachelor Nation obviously has the receipts. According to People, Raven wrote:
Hey everybody! Make sure you follow [Bekah] so she can get those followers so she can stop talking s*** about her friends...like Tia!!! And Becca!!! Come on now hurry up!!
Bekah clapped back, replying:
Girl I would never talk s*** on Becca because she's as real as it gets. That's the reason I tweeted that thing about Colton and Tia in the first place, because it looked like they both played her on this one.
Things got pretty intense, but now it seems that Bekah has turned the page. On Tuesday morning, she tweeted out an apology about handling the Tia-Colton drama the way that she did.
I've come to expect outrageous tweets from Bekah M. since she debuted on The Bachelor in January with a certain je ne sais quoi. However, it also seems that no matter how crazy her tweets become, she always reels back the insanity somehow. I may not be a fan of how Bekah occasionally tweets (I mean, just look back to last week), but this apology is definitely reflective and well-crafted. Did she have to spoil Bachelor in Paradise for fans who purposely don't follow or even know about Reality Steve? Eh. But did she do her best to clean up this mess? Yes.
Of course, not everybody has the thought process of a grandma like I do, and they love the drama. Once she took care of the serious side of her apology, Bekah noted that the majority of Bachelor Nation loves to spill the tea as much as she does. She also clarified that she shares exactly what she wants to without any outside influence.
No surprise, but fans totally related to her shoutout to like-minded viewers. Bekah even responded to specific comments, which varied from saying that she did nothing wrong to telling her that she should've kept quiet.
Um, hold the phone — Paradise reunion? She may be back in the States, but it looks like Bekah just confirmed that the hype about her joining the new Bachelor in Paradise cast is true. Once again, I throw out the theory that she calls out all of Becca's men's shenanigans there and sends herself home. Now that would be good TV. She may be unpredictable on social media, but Bekah definitely doesn't put up with unsatisfying situations for long.
Season 5 of Bachelor in Paradise premieres later this summer.