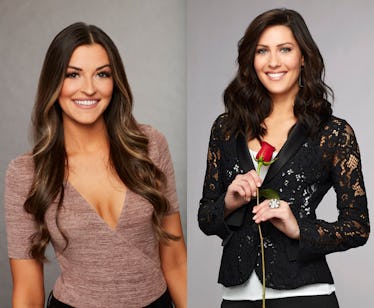 Tia Returns To 'The Bachelorette' In Next Week's Promo & I'm Not Mentally Prepared
ABC
The drama never ends on Season 14 of The Bachelorette. Normally, the week of hometown dates signifies a cooldown in antics until at least the fantasy suite stage, but Becca Kufrin's visits to her remaining men's hometowns were apparently so low-key that ABC still managed to squeeze drama completely unrelated to hometowns into the episode. The preview of Episode 8 promises a surprise guest who seems to seriously affect Becca's mindset. Tia returns to The Bachelorette in next week's promo, and I don't think I can handle whatever comes next.
There definitely hasn't been any Bachelorette season in which a past contestant was mentioned as frequently as Tia was this year. First, Colton admitted that he had a brief relationship / romantic weekend / *insert his latest excuse here* with Tia before filming the show. Then, on one of the season's first group dates, Tia was among Becca's Bachelor friends who joined her for a spa day with the men. Somehow, producers robbed us of an actual conversation between Tia and Colton on this date, but both of them assured Becca separately that their fling was over. On his first one-on-one date in Vegas, Colton also convinced Becca that he was entirely there for her.
Anyone who stays up to date with their Bachelor Nation spoilers knows what happens with Tia and Colton post-show, but the teaser for next week's episode suggests that we're finally going to find out how things escalated to reach that post-Bachelorette point. While the majority of the promo focuses on the men's hometown dates and the traditional Bachelor skeptics in their families, the last part of the clip takes a distinct turn. Because Becca just can't catch a break with these plot twists, right?
In the preview, Becca is brunching with Bekah M., Tia, and Kendall when Tia asks to speak to her alone. As Becca's thoughts of a calm, peaceful girls' meal that producers would certainly edit out because it's too normal disappear, the clip shows dramatic reactions from Kendall and Bekah, who had no problem about inserting herself into the post-filming Colton and Tia drama.
When Becca and Tia are alone, Tia stirs the pot, saying, "I've just had to be honest...it makes me sick to my stomach."
The clip then cuts to Becca admitting, "I never saw that coming... it just sucks."
Tia, what did you do?
We don't know what Tia's confession is about, but given the season's narrative, there's no way that it's not connected to Colton somehow. Bachelorette fans have taken to Twitter to share their theories about what the moment could entail, and the responses range from ridiculous to actually pretty believable.
The strongest guess among viewers appears to be that Tia admits she still has feelings for Colton. As the preview includes footage of Colton's hometown, it would make sense that her bombshell comes after Becca has gone on all four dates. For all we know, Becca had already made her decision about who to eliminate when she was meeting with her friends, meaning that this conversation with Tia could really end up messing with Becca's perspective.
She may not have become this year's Bachelorette, but Tia has definitely left her mark on this season of the franchise, whether or not fans liked it. We know that Tia is due for an appearance on Season 5 of Bachelor in Paradise, but fans will have to wait and see if Colton ends up on the beach in time to hook up with her again.
The Bachelorette returns on Monday, July 16, at 8 p.m. ET on ABC. Season 5 of Bachelor in Paradise premieres on Tuesday, Aug. 7 at 8 p.m. ET.