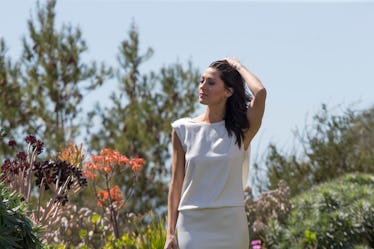 This 'Bachelorette' Contestant Had A "Weekend" With One Of Becca's Best Friends & Yikes
ABC/Paul Hebert
Tia Booth and Becca Kufrin already competed against one another for Arie Luyendyk Jr's heart on Season 22 of The Bachelor, but now Tia is also playing a role in Becca's season of The Bachelorette. Rumors have been swirling that the former contestant and the current leading lady have another suitor in common and now things are finally coming to light on TV. What happened between Tia and Colton? Season 22 of The Bachelor and Season 14 of The Bachelorette has a connection beyond Becca.
On the second episode of Becca's turn as The Bachelorette, Colton decided to come clean to Becca about his past with Tia. You may remember Tia as the Weiner, Arkansas native who vyed for Arie's heart and made it to the final four.
Colton confessed to Becca:
Prior to coming on to this in January I had a relationship with Tia and I wanted to make sure to explain sort of that we had a weekend together, but for me the timing wasn't right to grow what was a spark into a flame. If my feelings were strong enough I wouldn't have come on this.
Becca was rightfully stunned and the revelation left her "questioning" everyone's, especially Colton's, authenticity.
"I'm not gonna lie, I don't know how I feel about it. It makes me feel a little bit sick. I'm very attracted to you and I really like what our conversation was on night one and I feel like we had a lot in common but it's a very tricky situation and it puts me in a very strange position," she explained to Colton, before saying she needed time to think about the situation.
The next day, Becca still couldn't move forward with Colton without going deeper.
"I also want to reassure you that the reason that I'm here is because I want to get to know you. And I obviously haven't had a lot of words to get to know you but relationships are built on honesty and trust and you will never have that doubt with me," Colton told her, but she still had reservations after their second sit-down going into the rose ceremony.
Talk of a potential Tia link to Becca's season were in the air even prior to last week's premiere. Bachelor alum Raven Gates and boyfriend Adam Gottschalk, who got together on Bachelor in Paradise, hit up the Rose Buds podcast in April and hinted at a possible "scandal" that could hit Becca's season. Raven discussed her hometown BFF and college bud Tia's love life, explaining, "I don't want to say too much, because I think you'll find out later some other things going on that may..." before breaking into laughter and giving too much away. The pair then teased a possible "scandal" to come, and while they remained relatively mum on the actual events. Adam remarked: "Your your mind will be so blown." So, are they referring to Colton's confession? Probably.
Adam later suggested that people ask Tia "if she's ever met a guy long distance, has never met him... And ask her if she's ever been flown out to wherever he lives and explain to the audience what kind of weekend they had," should she ever be a guest. Say, what? "Adam may be foreshadowing..." Raven added before stopping herself again.
Life & Style then picked up on a reddit thread that speculated about Colton's relationship with Tia, even noting that he "expressed his interest in Tia several times on Twitter."
Tia and Becca appeared to become pretty close throughout Arie's season. Tia even went ahead and expressed her excitement for Becca's Bachelorette stint in a supportive Instagram post. A portion of the caption read, "I can honestly say that Becca is one of the best people on this planet. Her heart&soul are so pure, and she truly sees the best in everyone."
Many fans speculated that Tia was going to be The Bachelorette for Season 14 following her shocking elimination. She told Entertainment Tonight in February:
I think it would be an amazing experience getting to be the Bachelorette and to get to meet some amazing men. I know it would be tough, but I would kinda be in control and in charge. I think it would be another learning and growing experience, and I'm all for that. Thirty years from now, I don't want to say, 'Well, I turned that down because I was scared or nervous.'
"You'll actually get to see that start to play out tonight," Becca teased of the Tia situation in a June 4 interview with Access Live. "And you'll see her throughout the season as well. It all starts tonight."
When asked if it bugs her to hear about her suitors' pasts, Becca remarked, "It was surprising to me and we had a lot of conversations throughout the season about it..."
Oh, what a small Bachelor world it is!