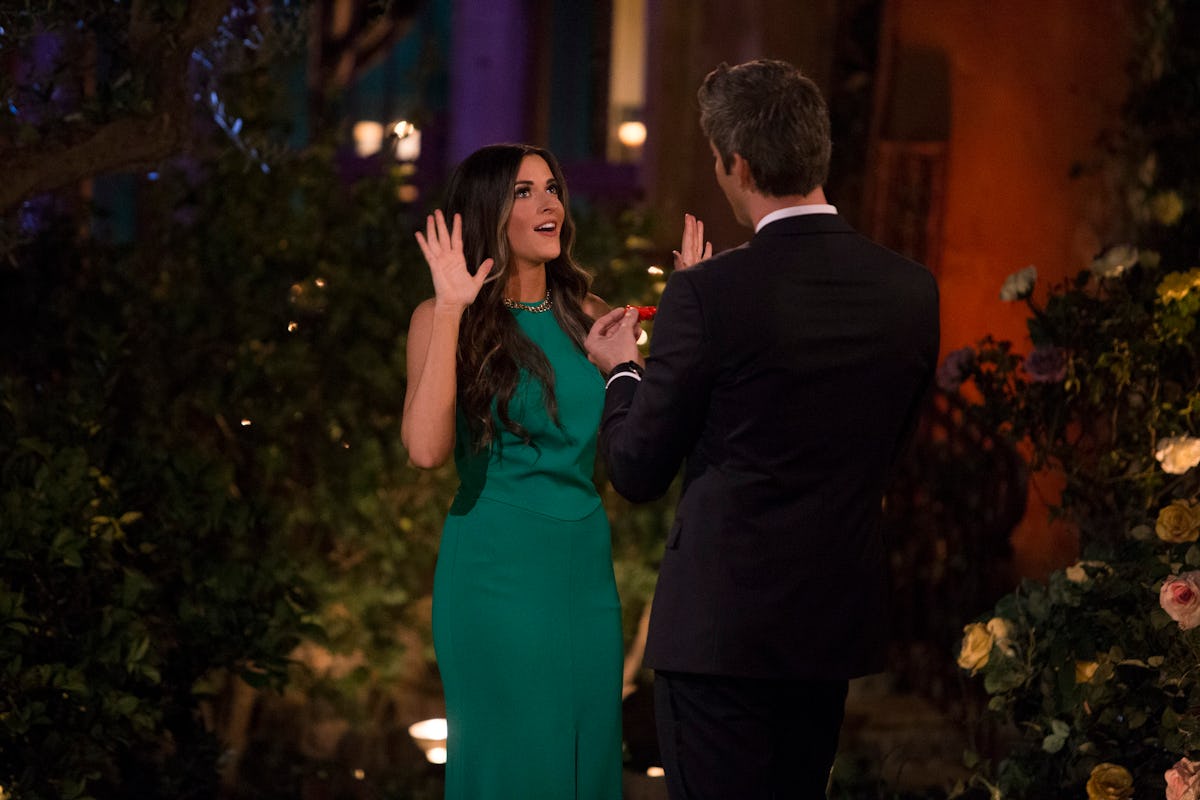 Tia Reveals Whether Or Not She Wants To Be The Next Bachelorette & OMG
The surprise elimination of Tia Booth following hometown dates on Season 22 of The Bachelor was heartbreaking to me for about a minute. Then, as Arie basically floundered around his explanation of why she was cut, I was already moving onto visions of Tia wearing a fabulous dress and handing out roses to a group of men far more appealing than Arie has ever been. After the Women Tell All taping last week, the Arkansas native revealed to a reporter whether or not she'd want to be the next Bachelorette.
Bachelorette producers lost out on casting Season 21 runner-up and Tia's hometown friend Raven Gates as their lead when she found herself in a relationship after appearing on Bachelor in Paradise. I've been convinced since the start of Arie's season that producers still want a lovable Southern girl with a fun spark as the Bachelorette, and Tia, like Raven, fits that mold without having the emotional baggage of being a runner-up. Clearly, I've given this a lot of thought, but luckily, Tia has considered the possibility too, telling Entertainment Tonight:
I think it would be an amazing experience getting to be the Bachelorette and to get to meet some amazing men. I know it would be tough, but I would kinda be in control and in charge. I think it would be another learning and growing experience, and I'm all for that. Thirty years from now, I don't want to say, 'Well, I turned that down because I was scared or nervous.'
Do you think Peter Kraus is listening to that last bit of Tia's answer?
Last year, third place Bachelor contestant Rachel Lindsay was announced as the next Bachelorette while her time on The Bachelor was still airing. Given that she was the franchise's first black lead, I get why ABC casually spoiled the entire nation and announced this ahead of time, but it's unlikely to happen again. This is a bit of a vintage move, but I have my fingers crossed for a Bachelorette announcement at the live After the Final Rose special. Time to stalk Tia's social media for any upcoming trips to L.A.!
Following her elimination on the show, Tia wrote a reflective message about her Bachelor experience on Instagram.
I'm forever grateful for The Bachelor for this opportunity to learn so much about myself and grow as a person. I'm thankful for Arie for showing me it is OK to fall in love, even if it results in heartbreak. It is OK to step out of my comfort zone and truly feel...actually it's encouraged.
As it's still possible for one of the remaining three women to snag the Bachelorette gig, Tia is also open to appearing on Paradise. The summer spinoff series obviously comes highly recommended from Raven, who is dating Bachelorette Season 13 alum Adam Gottschalk after meeting him on Paradise.
I would love to be in Paradise. I would love to continue on this Bachelor journey. Obviously [Raven] had such a great experience with the show that it made me wanna go on the show, and I can honestly say that it's one of the best experiences of my life. I have no regrets.
Although a reunion with Bibiana in Paradise would be quite legendary, I'm still convinced Tia would be the perfect Bachelorette. Firstly, we know that she's friendly with Bachelor producers, who serve as the lead's go-to squad during The Bachelorette.
While she may have experienced tension with Bekah M. when the group was in Tuscany, Tia also emerged from The Bachelor with strong female friendships. Not only is this a good sign of her being a woman's woman, Tia being friends with her fellow Bachelor contestants means that we'd see guest appearances from some of our faves on The Bachelorette!
The Bachelor returns on Sunday, Feb. 25 with the Women Tell All special. While it doesn't look like the new Bachelorette will be announced until the end of the season, I'll definitely be keeping a close eye on Tia for any hints of big news.