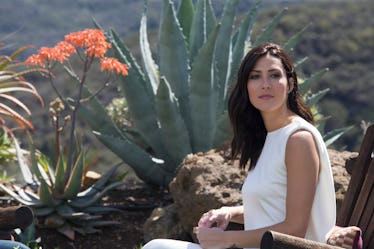 Here Are The Guys Becca Sent Home On 'The Bachelorette' Week 2
ABC/Paul Hebert
Things are off to a smashing second episode for Becca and her band of suitors. Literally. Season 2's leading lady got the chance to figuritively destroy her past by heading to a date that involved demolishing any remnants of her relationship with Arie. It's not my idea of romantic outing, but whatever floats your boat. Or breaks your fishtank. Anyhoo, after the dates come the inevitable goodbyes. Who goes home on The Bachelorette week 2? Becca let go of a few more contestants, narrowing down the group of guys vying for her heart from 21 to 18.
The men Bachelor Nation bids adieu to tonight are... Alex, Rickey, and Trent.
Alex is a 31-year-old construction worker from Atlanta. Rickey is an IT consultant from San Diego. Trent is a realtor from Naples, Florida. You may remember Trent was the guy who showed up in the hearse... At least that morbid move got him to the second episode.
"Little bummed, I was looking to fall in love," Alex said tearfully in his exit interview. Aww.
Prior to the rose ceremony, eight of the the contestants (after getting pampered with tuxes and champagne) competed in a Groomsday obstacle course that tested their wedding capabilities. Season 13 Bachelorette Rachel Lindsay — always a welcome franchise alum — and her hubby-to-be Bryan got in the action.
"It will be fun. It will be messy, but that's kind of symbolic of what relationships are like," Rachel warned the guys wisely.
Lincoln was victorious, but his win came with a ridiculously petty fight. After some picture-throwing drama between him and Connor, Becca got to talkin' and kissin' with Jean Blanc and he got the group date rose. Wonder if it smells as good as he probably does?
There was also a dodgeball group date, since dodgeball is basically the ultimate representation of cutthroat competition. It's like getting to be a kid again, except this time you're not trying to get through gym class without humilation — you're trying to win the affection of a woman on a reality show.
Blake got the coveted one-on-one, accompanying Becca to the "rage room" to get out aggression on items related to exes. Becca revealed to Good Morning America it was her "favorite date of all time," so that says something. Oh, and Lil Jon was there, because of course he was! Turn down for what, indeed.
After all the drama and the romance, the episode had to end in a rose ceremony.
"I just want you guys to know how amazing you guys all are," Becca sweetly told the guys before letting a few down easy.
It's usually sad to see people go on this show, especially before Bachelor Nation even gets a chance to know them. According to ABC Exec Rob Mills Becca's roster was a standout group and quite possibly one of the best casts they've ever had. He told Variety,
I don't know why we got such a strong crop, but we really, really did. They definitely all loved Becca. I think it helped that Becca is into all different types of guys so she had a lot of different personalities. This is one of our stronger crops of guys we've ever had — just really interesting, fun guys that are great. There will be a lot of people to root for. I know we use this word a lot, but it really is going to be a great journey for the fans.
And Becca's decision-making is only going to get harder as time goes on. This "strong crop" of guys is getting smaller by the week.