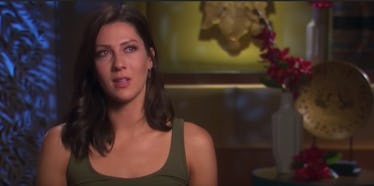 Becca's 'Bachelorette' Season Promo Shows It's Going To Be As Intense As You Hope It'll Be
ABC/YouTube
Glimpses of sandy make-outs, exotic locations, crying, and the words "I'm falling in love you" uttered by more than one person... you know what that means: Becca's Bachelorette season promo is officially here. Now that Season 14 is off to a dramatic beginning, Bachelor Nation is chomping at the bit to see what's about to unfold as things progress. And judging from the four minute and change clip, Becca's men are going to bring the intensity, conflict, tears, and romance.
Just look at Becca as she enjoys her televised love odyssey, on her own terms of course. She's swinging on tires, grinning ear to ear, and seems genuinely happy to be the Bachelorette. "I'm so beyond happy. I'm glowing from the inside out. I feel like I can't get the smile off my face," she says in the extended promo for the season. But this is a reality show, so eventually things get real. Like, bawling on hotel bed real. "What am I doing?" she asks in between sobs in the next shot. "Like, he literally just did what Arie did to me."
Oh, no. It looks like Becca's journey is going to have its fair share of twists, turns, and trust-breaking.
What else goes down in this action-packed promo? There are claims that Lincoln in a "pathological liar" and "manipulator." Plus, model Jordan gets accused of being on the show for the wrong reasons aka furthering his career.
"It's funny you think I'm a joke, because attached to me is professionality is my face," Jordan warns. "So, if you want to wreck my image it's actually pretty serious."
It's also revealed that Colton is this season's virgin, although some of the other men (Jordan) aren't buying it.
Then it's back to Becca, who is not pleased with her contestants' behavior. Apparently somebody burned her and she wants to weed out the liars before she gets hurt again.
"I'm so pissed because I'm only asking for honesty from you guys, that's all I want. And to not get that I feel so disrespected and so upset with him. And it scares me. But if anyone else can't be honest with me from here on out I don't want you here," she tells the guys. Becca means business.
There's also a scene that reveals an ambulance and someone being pulled out on a stretcher. Eek.
Aaaand here's the kicker. "Really the most tragic part of this is I'm in love with two guys," Becca admits at the end of the trailer. "I don't think anything can prepare you for this."
I'm getting stressed just watching this exhausting rollercoaster of a clip. One minute Becca is beaming, the next she looks like she's in agony.
Becca divulged prior to the premiere that she does indeed get engaged on the show, but she's also confessed to being torn between two guys.
"I did develop really strong feelings for a couple of them and I did fall for two guys at the end, yes," she told ET. The 28-year-old explained the Bachelorette experience, saying,
Until you're in this position, you don't realize how much pressure there really is, and how difficult it is to navigate certain relationships. Because if you're doing it right, you should be developing feelings for multiple people to really sift through every personality, every relationship, to exhaust the ones that aren't right for you.
It's nice to know that Becca got what she was looking for (she told People she "finally found her missing puzzle piece," aww), although it appears she had to go through a lot to get there.