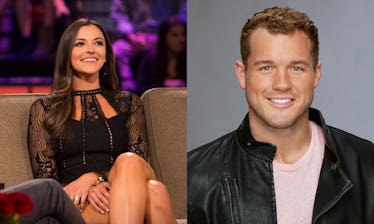 Colton Finally Broke His Silence About Tia & He's Spilling All The Tea
ABC/Craig Sjodin/Paul Hebert
Colton was eliminated during Monday's hometown week episode of The Bachelorette Season 14, and now that he's off the show he's setting the record straight about one intriguing element of his dating history. Colton had a brief fling with Tia — who competed alongside Becca for Arie's heart on Season 22 of The Bachelor — and their relationship was at the center of his story, ultimately affecting Becca's decision to send him home. According to an interview on the Ben and Ashley I Almost Famous Podcast, Colton & Tia's first date was in January. The football pro opened up about how he and Tia originally connected, how long they were talking, what their date was like, and many more enlightening details.
"I'm going to shoot it straight for you right here," Colton remarked to Ashley and Ben, who basically deserve Pulitzers at this point. I highly suggest you listen to the podcast in full and take a deep dive into their back catalog of episodes if you're a Bachelor franchise fan.
Then Colton launched into his version of events on how things got started between him and Tia. Apparently Colton attended casting weekend for The Bachelorette and after leaving, they told him they were releasing their girls and that he should take a look and let them know his top three based solely off their headshots. Colton says that he sent back his picks — Tia, Becca, and Lauren. He continued:
It's just off physical appearance right off the bat. So I sent those back to the casting and I actually followed all three of them on Instagram and Tia followed me back and I wasn't expecting that, and I was sort of shy and I wasn't going to DM her. It just is what it is.
Colton went on to say that it was actually Stranger Things that initially sparked a conversation with Tia, as he posted something about the Netflix series to his Instagram Stories. Isn't modern romance grand? Tia ended up sliding into his DMs with a comment about Eleven of all things, and the rest became reality TV history.
"We casually started talking on Instagram, we exchanged numbers, starting talking, FaceTimed. And the second day that I talked to her I actually disclosed to her that I was a finalist for the show and I was probably going on the show," Colton clarified.
The couple set up a Los Angeles date in late January, which he planned — the weekend included hiking, rescue puppies, and a steak dinner. It was a one-time situation and Colton says he got an Airbnb.
But after all was said and done, he had a hunch they might not be able to move forward.
"We had somewhat of a spark, somewhat of a connection," Colton explained, also admitting he didn't want to let go of other options at the time. He added that Tia expressed enthusiasm and encouragement regarding his possible opportunity to go on The Bachelorette. They told each other that if they received the chances to be on the show (Tia was likely in the running to become The Bachelorette at the time), they would do it.
Tia made two memorable appearances on The Bachelorette this season. After Colton confessed to Becca that he and Tia had a little something prior to filming, the pair assured Becca that it was in the past and they cut things short when he was officially cast as a contestant. Things took an awkward turn this week when Tia returned with other former Bachelor alums/friends of Becca's to hear all about Becca's journey thus far. Once Becca got to talking about Colton, it was clear that something was up on Tia's end. She proceeded to pull Becca aside to reveal she still had feelings for him.
"I was actually blindsided. I was not expecting that at all," Colton said in response to that shocking, game-changing action. And although he was confused by Tia "playing a part in his breakup," he does not fault her.
Colton and Tia are both cast members of Season 5 of Bachelor in Paradise, which premieres Aug. 7 on ABC. Bachelor Nation will have to wait to see what transpires between them in Mexico, but in the meantime there's juicy morsels of intel from Ashley and Ben's podcast to fill us in on their riveting road to BIP.