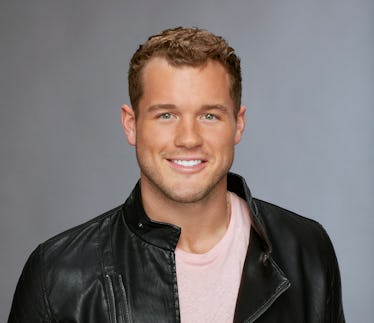 Colton Is Officially Headed To 'Bachelor In Paradise,' So Get Your Wine & Popcorn Ready
ABC
Fear not, Bachelor Nation, because you don't have to go the rest of the summer without your weekly dose of eye candy via Colton Underwood's face. Despite being eliminated on the Week 8 episode of The Bachelorette, Colton will be back on our TV screens before we know it. Colton will be on Bachelor in Paradise, and seeing as Tia Booth also has a one-way ticket to Mexico this summer, I'm stocking up on my wine and popcorn ASAP. We definitely haven't seen the last of these two's "relationship."
The Bachelorette Twitter account confirmed Colton's Paradise casting soon after the show's West Coast feed ended, sharing a teaser about Tia thinking about Colton while in Paradise. She tells the camera that she still has feelings for the former NFL player, but seeing as the two seemingly didn't see each other between Bachelorette filming and the start of Paradise, Tia doesn't know if Colton has similar feelings for her. The original Bachelor in Paradise Season 5 promo also showed Tia believing that she "could fall in love" in Mexico, essentially foreshadowing Colton's inevitable Paradise appearance. ABC just won't rest until it gets a double wedding with Tia, Raven Gates, and their Bachelor-approved men, huh?
The Paradise news comes after a distressing Bachelorette elimination of Colton. Although Becca Kufrin claimed that his dad telling her to cut him sooner rather than later contributed to her decision to eliminate Colton, Tia's confession that she still liked Colton definitely played a bigger part in the process than Becca let on when saying goodbye to Colton. Whether or not it's intentional, the show seems pretty dedicated to giving Tia a Bachelorette-esque love story.
Colton retweeted The Bachelorette's message with a joke about how eager ABC was to announce his Paradise involvement. Somehow, I really don't think he minds the network's excitement very much.
Even though this unpredictable Tia-Colton reunion is bound to deliver some juicy drama this Paradise season, fans of Colton actually don't seem too thrilled about his role on the upcoming show. Many Bachelor Nation members on Twitter have written about Colton being "too good" for Bachelor in Paradise and their own disappointment about his casting decreasing his chance of becoming the next Bachelor.
The savvier Bachelorette fans have already known that Colton hits up Paradise and, thanks to spoiler guru Reality Steve, even know a snippet of what happens to Tia and Colton at the beach. Tia and Becca's fellow Bachelor Season 22 star Bekah Martinez inserted herself into this drama, suggesting that she has some beef about how both Tia and Colton presented their past relationship to Becca on The Bachelorette. We'll have to wait and see if these online drama fests make it onto a Paradise reunion special or if ABC continues to ignore the fact that Twitter feuds exist.
Colton and Tia join a Paradise cast that includes recent Bachelorette fan favorites Joe Amabile and John Graham and dueling bros Jordan Kimball and David Ravitz. Other women originally from Arie Luyendyk's Bachelorette season that will be featured this year include Kendall Long, Chelsea Roy, Annaliese Puccini, Bibiana Julian, and night one castoff Nysha Norris. Reminding us of simpler times in Bachelor Nation, Bachelorette Season 13 stars Kenny Layne and Eric Bigger are also among the cast, while Bachelor Winter Games contestant Kevin Wendt makes another return to the American Bachelor franchise. Colton may make an appearance on the Paradise beach later in the game, hinting that he may have to overcome pre-existing drama before going on a date with Tia. I'll be waiting for this reunion with bated breath!
Season 5 of Bachelor in Paradise premieres at 8 p.m. ET, Tuesday, Aug. 7, on ABC.