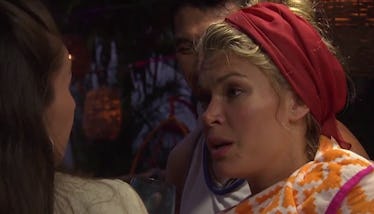 The 'Bachelor In Paradise' Season 5 Promo Is Here & The Drama Is REAL
ABC
We're hitting up the hometowns of Becca's remaining men on The Bachelorette this week, which means that we're nearing the homestretch of the season and that Bachelor in Paradise is premiering sooner rather than later. Forget semi-genuine love on The Bachelorette, because the dog days of summer mean that we're in store for insane Paradise hookups. Case in point: The Bachelor in Paradise Season 5 promo is here, and I'm ready for all of the season's drama.
After the original Paradise cast was recently revealed, we've been getting numerous updates to the cast following new episodes of The Bachelorette. At this rate, we're in for an entire summer of getting cozy with Becca Kufrin's men and becoming reacquainted with some of our favorite women from Arie Luyendyk's Bachelor season. If the new Season 5 promo is anything to go by, we even have at least one reaction shot from fan-favorite Wills to look forward to soon. The promo has yet to hit the show's social media channels, but you can watch it on Entertainment Weekly's website. While I have my fingers crossed that Wills steers clear of any major drama and pulls a Nick Viall to become the next Bachelor, what other crazy shenanigans will the rest of this cast get up to?
Although it feels like we've gotten our fair share of Tia via her Bachelorette guest appearances this year, she's back for action on Paradise. According to the promo, she's eager for the Bachelor franchise opportunity that Arie robbed her of once he broke up with Becca, and she tells the camera she "could fall in love" in Mexico. Check "animal mocks human" off your Paradise scorecard, because Tia's optimism earns her the season's first giggling lizard.
The rest of the trailer shows quick, teasing shots of hookups, arguments, and overdramatic interview moments. Male model Jordan is back for more wild quips, but seeing as the promo strangely doesn't seem to feature his arch nemesis David, I wonder if the contestant formerly known as Chicken Suit Guy leaves early on in the season. It doesn't look like Jordan will mind either way, because he seems to be in love with the beach, which he calls "almost as beautiful as me."
Oh, Jordan, I think I just might have missed you enough to laugh at that.
As for what kind of romances we can expect to see, Bachelor Season 22 star Annaliese Puccini scores a date with a guy who actually resembles Jordan in the romantic dim light. While Jordan came across as being fully aware of how ridiculous he sounded on TV, Annaliese's traumatic stories of bumper cars and dogs didn't seem as rehearsed, so keep an eye on these two for some zany conversation.
Meanwhile, the promo also shows Bachelor Winter Games Canadian star Kevin Wendt cozying up with a girl whose face is away from the camera, while Season 22 contestant Chelsea Roy also kisses a guy who's a little tricky to identify from afar. Eric Bigger, one of the few Paradise men not from the latest season of The Bachelorette, is also shown bonding with Nysha Norris, a Night One Castoff from Arie's Bachelor season. Let the unlikely love stories begin!
Of course, explosive drama is due to overshadow any budding romances on Paradise. I would like Grocery Store Joe imitating an explosion as an ever-looping GIF now, please. Also, she may not drop a glitter bomb this year, but Season 22 "villain" Krystal Nielson is back, telling others, "I do what I want," with a snap to emphasize her point. Although he may have a date or two, Jordan is also causing trouble, seemingly inspiring sweet, low-key Kendall Long to say that she'd call the cops. Since we no longer have a single Ashley I. to be Paradise's token crying girl, Bachelor and Winter Games star Bibiana Julian appears to have taken her place, finishing the promo with her tears and the insistence that she's having fun.
Oh, boy. The season looks as wacky as ever, but with the drama slowing down on The Bachelorette, we could use another dose of Bachelor craziness ASAP. Can I start predicting Paradise couples now?
Season 5 of Bachelor in Paradise premieres at 8 p.m. ET, Tuesday, Aug. 7, on ABC.