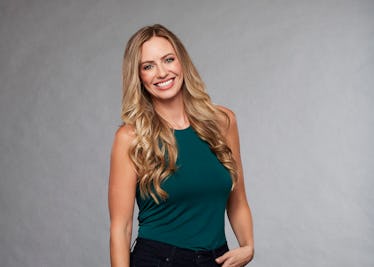 Refresh Your Memory On Annaliese From Arie's Season Before 'Bachelor In Paradise' Airs
ABC
Bachelor Nation works in funny ways. As soon as a season ends, my memories of certain hijinks fly out the window to make room for the next cycle's shenanigans. Then, like clockwork, such visions rapidly return when a new Bachelor in Paradise cast is announced. This was the case when Bachelor Season 22 alum Annaliese Puccini's name was among the new Paradise cast members for the show's upcoming fifth season. Who knew her various childhood traumas would scurry back into my brain the moment I saw her face? If you're lucky enough to not have such a strong memory of franchise contestants, we're here to answer that big question: who is Annaliese on Bachelor in Paradise Season 5?
The California native made headlines early on in Arie Luyendyk Jr.'s Bachelor season by making her limo entrance as a masked contestant. The 32-year-old event designer took off her disguise before the end of the night, seemingly solidifying herself as an age-appropriate, likable love interest for Arie. But as all of the other 30-something women on Arie's season were eliminated one by one, Annaliese's relationship with Arie also never took off, and the incredulous stories of her past definitely played a part in that failure.
On one of the season's first group dates, Annaliese didn't take very well to the idea of racing cars. Old-school Bachelor fans may recall that Season 15 winner and eventual Bachelorette Emily Maynard had a similar reaction on a racing group date, but that was because her fiancé died in a racecar incident. Annalise's explanation wasn't as bleak, and Bachelor Nation didn't quite know how to take her recollection of being trapped in a bumper car as a child. The show even shelled out some extra bucks for reenanction footage of her experience.
Another group date involving dogs triggered more unhappy memories for Annaliese, who had a scary encounter with her grandmother's dog as a child. So, in other words, Annaliese definitely has a traumatic experience involving the beach that will come up on Paradise, right?
That same week of the competition, Annaliese and Arie's cocktail party conversation concluded in them agreeing that they weren't meant for each other. She was sent home before the rose ceremony, and Bachelor Nation fans quickly moved on to more important things, like the validity of villain Krystal Nielson's voice. However, just as Krystal's Minnie Mouse tone is something we'll reunite with this summer, Annaliese and her...unique childhood experiences are coming our way, whether we like it or not.
Annaliese joins a cast that includes other favorites from her own Bachelor season, including Kendall Long, Bibiana Julian, and Tia Booth. The possible love connections for these ladies could be with some standouts from Becca Kufrin's ongoing Bachelorette season, such as grocer Joe Amabile and software engineer John Graham. I'm particularly excited about Bachelorette Season 13's extremely lovable Kenny Layne making a Paradise appearance. If Annaliese doesn't have any phobias about the wrestling ring, I'm all for her clicking with pro wrestler Kenny and Kenny finding her little quirks adorable.
Seeing as her childhood flashbacks are the exact reason Bachelor Nation remembers Annaliese, fans on Twitter are already betting on more cheap reenactments of her life on Paradise this year. Heck, Annaliese could even be this season's token "talks to an animal" girl.
Seeing as Paradise cast members are usually up to poke fun at the jokes made about them on The Bachelor and Bachelorette, there's also the possibility that the only reference we get to Annaliese's past is in a corny intro package at the start of the season. She definitely wouldn't be the first Paradise contestant to reinvent herself on the show.
Season 5 of Bachelor in Paradise premieres on Tuesday, Aug. 7, at 8 p.m. ET on ABC.