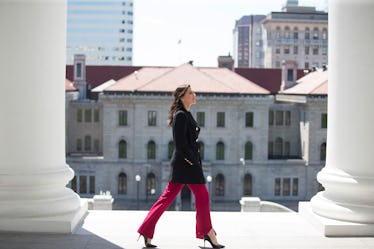 Becca Sent This Fan-Favorite Contestant Home After Hometowns & I Am Seriously Shook
ABC
On this year of The Bachelorette, Colton Underwood was like the little NFL player who could. Because fans knew all about his past romance with Olympic gymnast Aly Raisman and couldn't really move past his shifty pre-show connection to former Bachelor contestant Tia Booth, he was often a question mark when it came to what his intentions with Becca Kufrin were. A lot of Bachelor Nation members were leery about him, but seemed to let that slide because of the gem that is Colton's face. Well, relying on his looks failed him this week, so why did Becca send Colton home?
On her hometown date with Colton in Parker, Colorado, Becca visited a marketplace for gifts to bring to the children's hospital. In case you forgot, Colton runs a non-profit to help those with cystic fibrosis, and his interactions with these kids totally warmed Becca's heart. The warm and fuzzy feelings faded a bit when Colton emphasized that he's never brought a girl home in a formal setting. This made Becca nervous, having more relationship experience and wondering if Colton was unprepared for the commitment that the Bachelorette finale comes with.
Despite the warm welcome she received from the Underwoods, Colton's dad was the token skeptical father, even telling Becca at one point that he didn't want her to pick Colton in the end. Papa Underwood also knew about Colton's history with Tia, but came across as fairly neutral about the slight scandal the brief relationship has come to symbolize in Bachelor Nation. He became the voice of reason when it came to Colton and Becca's previous relationships, feeling worried about how quickly Becca could have bounced back from loving Arie and what would happen if Becca broke Colton's heart.
Colton's dad then questioned Becca about Colton's relationship with Tia, definitely throwing her for a loop when he asked how she recovered from her own engagement to Arie. His dad was in the "rip the Band-Aid off now" camp when it came to Colton's emotions, which is typically a sign that a guy on The Bachelorette is about to be eliminated.
As expected, things got awkward after Becca's four dates. Before the rose ceremony, she met with some of her Bachelor ladies to dish the dirt, but she probably wasn't expecting Tia to breeze in with a demand of her own. Tia wanted to talk privately once she found out Colton was still in the running, and seeing as she must have special privileges as an "almost Bachelorette" or something, Becca obliged.
Tia revealed that she still had feelings for Colton, raining on Becca's post-hometown bliss. To be fair, neither of the women seemed to blame each other for this turn of events, which is always a feminist win, but the confession obviously messed with Becca's mind. She eliminated him with Colton's dad's conversation in mind, feeling obligated to cut him from the competition if he wasn't going to be her last man standing. Although she had legitimate feelings for him, Becca ultimately knew that the rosy picture of her future didn't include Colton's very attractive face. Oh, well. Here's to his inevitable stint on Bachelor in Paradise this summer.
With Blake, Jason, and Garrett now the only three men remaining, The Bachelorette has some big questions to answer for us next week. Does Tia pop up after spending another elusive weekend with Colton and ask Becca if she'll take him back? Most importantly, will Jason's hair gel handle the heat in Thailand well? We'll have to wait and see.
The Bachelorette returns on Monday, July 23, at 8 p.m. ET on ABC.