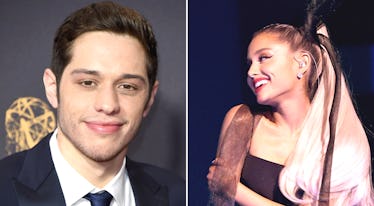 This Photo Of Pete Davidson & Ariana Grande May Confirm They're Dating & It's "Magical"
John Shearer/WireImage, Kevin Winter/Getty Images
It looks like Pete Davidson and Ariana Grande drank a love potion! Rumors about the comedian and pop star dating have been flying for weeks, but Davidson's latest Instagram post may finally be the confirmation that we've all been waiting for. Check out this magical pic of Pete Davidson and Ariana Grande that may confirm they're dating!
It has been a little over a week since rumors about a relationship between Saturday Night Live star Pete Davidson and "No Tears Left To Cry" singer Ariana Grande began sprouting up, and although a lot of small details seemed to confirm that the stars were dating, we never saw an actual photo of the two together... until now, that is. Davidson posted an adorable pic of himself and Grande standing side by side in Hogwarts robes on Wednesday morning. It is the first time that we have actually gotten a clear photo of Davidson and Grande together since the romance rumors started, and if the pic alone was not enough, Davidson seemed to totally confirm that he and Grande are indeed dating with his caption.
Befitting the Harry Potter theme of the photo, Pete Davidson captioned the shot:
the chamber of secrets has been opened ...
I mean... That's pretty clear, right? He and Ariana Grande are finally done keeping their relationship a (semi-) secret. Check out the enchanting photo of the couple below:
Before the couple announcement photo was taken, Ariana Grande showed off the Slytherin sweatshirt that she wore for the picture on her own Instagram. It turns out, the look was part of a set, as Pete Davidson rocked a Gryffindor sweatshirt in their photo together. I guess that answers the second most important question about their relationship: which Harry Potter houses they self-identify as belonging to!
Clearly, Ariana Grande and Pete Davidson are no longer keeping their relationship quiet. Grande was spotted out at Davidson's stand-up set at The Comedy Store in Los Angeles on Tuesday night, as reported by Page Six. She even included a photo of Davidson on stage in her Instagram Story:
Reports about Ariana Grande allegedly dating Pete Davidson began surfacing this past Monday (nine days ago now), after both Grande and Davidson had recently split from their respective long-term significant others. Earlier in May, Grande broke up with rapper Mac Miller, whom she had been dating since 2016. Around the same time, Davidson broke up with Cazzie David, the daughter of Larry David, whom he had dated for about two years.
Since the dating rumors began, Ariana Grande and Pete Davidson have been doing tons of cute but low-key things that had fans convinced they must be an item. Fans soon noticed that they had matching tattoos, were commenting on each other's Instagram posts all the time, and even spent Memorial Day roasting marshmallows together. Davidson also took to Instagram shortly after the dating rumors began to shut down online trolls that were saying he would be "toxic" as a boyfriend for Grande due to his bipolar personality disorder.
Even though all of those things definitely seemed to point to a relationship, we still have not gotten an official confirmation that Ariana Grande and Pete Davidson are dating. This new Harry Potter photo, though, seems to finally be the confirmation that everyone has been waiting for. So I guess that means we can all put down our magnifying glasses and stop looking for every tiny detail in all of their social media posts, because I'm just going to say it now: Pete Davidson and Ariana Grande are totally dating!