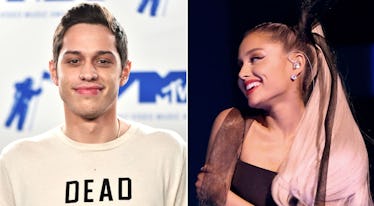 Ariana Grande Just Commented On Pete Davidson's Instagram, So I Guess This Is Real Now
Alberto E. Rodriguez/Getty Images; Kevin Winter/Getty Images Entertainment/Getty Images
By now you probably know that Ariana Grande and Pete Davidson are reportedly seeing each other. While the two young stars have yet to officially comment on the relationship, they're using social media to make sure people know how they feel. And on Thursday, May 24, Grande sparked headlines and raised eyebrows by doing just that! Yup, Ariana Grande commented on Pete Davidson's Instagram and now people are certain that the two are an item. Elite Daily reached out to both Grande and Davidson's teams for comment on the recent dating reports, but did not hear back by the time of publication.
Ever since news broke on Monday, May 21, that Grande and Davidson were reportedly seeing each other, fans have been running amok on social media with commentary, theories, and opinions about the union. Grande is doing little to feed into it, but that's not stopping fans from expressing themselves. So, what exactly was Grande's comment on Davidson's Instagram?
Just a simple 😊 emoji. Grande posted it in response to a photo of Davidson wearing a hoodie and hat and looking quite coy. So, are they dating? Are they not? They sure seem fond of each other, so it's a possibility!
In a report from Us Weekly, a source close to Grande and Davidson alleged that the two are, in fact, dating:
Ariana and Pete are dating and it's casual. It just started.
Even though the relationship just started, Grande has already gotten cozy with Davidson and his mom. All three went out to dinner a few weeks ago. At least, according to another Us Weekly source:
Ariana was hanging out with Pete and his mom at the SNL afterparty at Zuma on May 12. Ariana is very happy.
The news of the relationship between Grande and Davidson comes nearly two weeks after Grande announced her split from longtime boyfriend Mac Miller. Us Weekly's insider source also shed light on that relationship:
Ariana and Mac officially broke up after Coachella weekend, but ultimately the relationship had been over long before. Ariana was holding Mac together for a long time and it wasn't a good relationship for her.
Soon after Grande announced to the world that she and Mac Miller were no longer an item, the singer took to social media to express her genuine love and appreciation for him:
Hi! This is one of my best friends in the whole world and favorite people on the planet Malcolm McCormick. I respect and adore him endlessly and am grateful to have him in my life in any form, at all times regardless of how our relationship changes or what the universe holds for each of us!
So, while the relationship may not have been the best thing for her, Grande does genuinely care about the guy, which is so nice to see!
More recently, Grande responded to a fan that blamed Grande for Miller's risky behavior as of late, particularly his DUI arrest:
I am not a babysitter or a mother and no woman should feel that they need to be. I have cared for him and tried to support his sobriety & prayed for his balance for years (and always will of course) but shaming / blaming women for a man's inability to keep his s–t together is a very major problem. let's please stop doing that.
Elite Daily reached out to Mac Miller's team about the claims in Grande's tweet, but did not hear back by the time of publication.
Good for her for standing up for herself. Her message of self-love here is so important and doesn't diminish her compassion for Miller at all. What a great way to handle this situation.
All the ex-boyfriend stuff aside, it seems that Grande is happy with her life right now. So, that's pretty awesome!