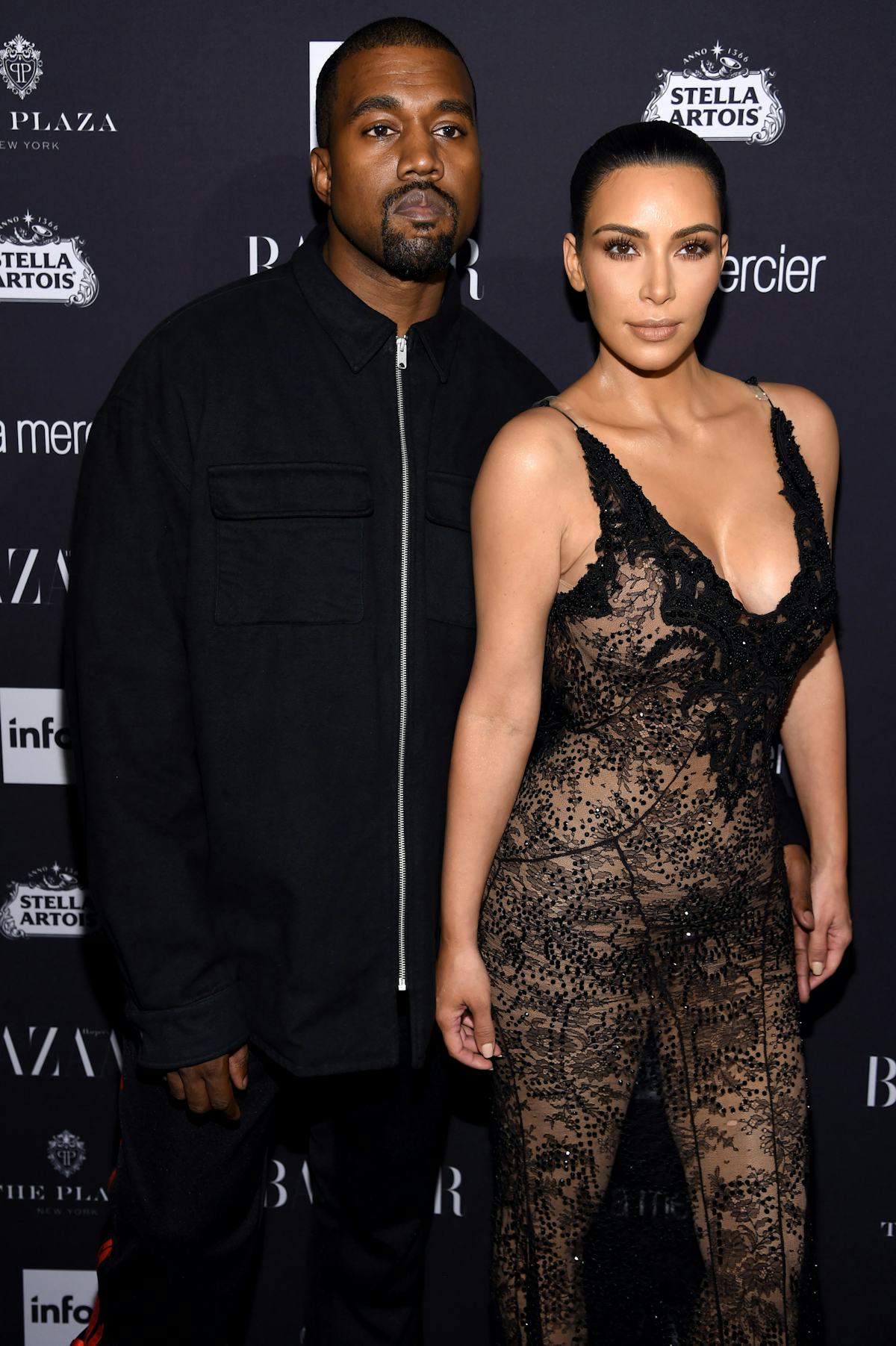 Kim K Just Shared Her First Photo Since Welcoming A Third Baby & The Caption Is So Sweet
Dimitrios Kambouris/Getty Images Entertainment/Getty Images
Well, friends, leave it to Kim Kardashian to create the most memorable beginning to 2018. She and Kanye West have welcomed their third child into the world and the world is thrilled. The first photo of Kim Kardashian since welcoming her third child is here and she looks amazing as usual, but the caption really is the best part.
The photo, shared on Twitter, shows Kardashian-West in a dark charcoal sweatshirt, bike shorts, and heels with her ever-so-famous silver blonde locks. The caption reads, "#momofthree." So bad*ss.
Kardashian confirmed the birth of her daughter in a statement on Jan. 16. She said, "January 15, 2018, 12:47 a.m., 7 lbs 6 oz. Kanye and I are happy to announce the arrival of our healthy, beautiful baby girl. We are incredibly grateful to our surrogate who made our dreams come true with the greatest gift one could give and to our wonderful doctors and nurses for their special care. North and Saint are especially thrilled to welcome their baby sister. Love, Kim Kardashian West."
I'm so happy for the Kardashian-West family. Their surrogacy journey has definitely been a long one. Kim has given fans a window into the process, and has spoken on how having their third child has been a totally different experience for the family than the first two.
While doing press for her fragrance, KKW Crystal Gardenia, Kim told Entertainment Tonight,
You know, it is really different. Anyone that says or thinks it is just the easy way out is just completely wrong. I think it is so much harder to go through it this way, because you are not really in control. And, you know, obviously you pick someone that you completely trust and that you have a good bond and relationship with, but it is still ... knowing that I was able to carry my first two babies and not, you know, my baby now, it's hard for me. So, it's definitely a harder experience than I anticipated just in the control area.
We saw on Keeping Up With The Kardashians that carrying a third child could be potentially life-threatening to the star. Besides that, Kim had an overall very uncomfortable pregnancy. However, this doesn't mean she preferred surrogacy. She continued,
I hated being pregnant and I never thought I'd ever ... I thought this was going to be so easy, but you know, even in how much I hated it, if I could do it myself I would have preferred that. So, that inner struggle is kind of hard, but I am just rolling with it and it is what it is.
Before her third baby's arrival, Kim was definitely feeling some nerves. She explained,
I think it is definitely a different experience and I am blessed that I am able to do this, and technology is the way that it is that we can do this. But it is still a process that you need to digest. Even the fact that it is happening -- and you do forget sometimes -- because I think when you are pregnant, by the time you have the baby, you are so prepared and so ready, and now I am just like, 'Oh my God I am going to freak out because I'm not ready and I'm not prepared,' but it'll just all come into place.
After all that worry and anxiousness, the third addition to the Kardashian-West family is here. Her siblings were definitely excited for her arrival.
North was already reaping the benefits before the new baby arrived. Kim told Ellen DeGeneres about her luxe cherry blossom-themed baby shower and how North was ready to step in and make sure all the new toys were "OK for baby sister." Kim said,
My daughter, she's really tricky. We had a baby shower over the weekend, and I thought: 'I really do want a baby shower because I want her to feel that something's coming, and I really want her to understand.' People brought toys and gifts [to the shower], and we were opening them all up the next day and North said, 'Mom, since baby sister's not here, I think I need all of her toys in my room and I'll play with them and just make sure they're OK for baby sister.'
It looks like Saint will be a bit outnumbered at home. Just kidding, I'm sure it won't be much longer until we see adorable sib pictures from Kimmy K.
After so much anticipation, it's so amazing that the newest member of the Kardashian-West family is finally here. Congrats to Kim and Kanye!
Check out the entire Gen Why series and other videos on Facebook and the Bustle app across Apple TV, Roku, and Amazon Fire TV.