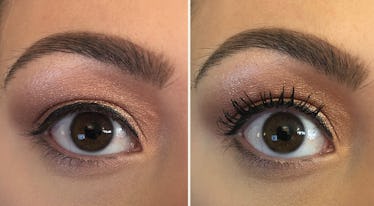 I Was Finally Brave Enough To Try A Heated Eyelash Curler — & Now I'm Mad I Didn't Use One Sooner
Courtesy of Bella Gerard
Ever since I can remember, I've had long, black eyelashes I was proud of, the only problem being that, unless you were looking at me from the side, you could barely see them. What my lashes had in length they lacked in curl, and the fact that they were stick-straight made them impossible to see when looking at me head-on. For a long time, I debated getting a lash lift to give them some shape, but after learning that they only last about six weeks, I knew I needed a different solution: cue this ModelCo TURBO LASHWAND Heated Eyelash Curler review, in which I'll tell you exactly what that solution came to be.
No shade to traditional, non-heated eyelash curlers — seriously, it's not you, it's me — but I've been buying and trying them for years, and I've never found one that would work with my lashes and provide a curl that lasted more than around 30 minutes. There have been certain mascaras that have brought this time up to about 45 minutes, but it's safe to say that by the time it hits the hour mark, my lashes are straight. Since I personally love the look of large, curly, fluffy lashes, I often have to resort to false lashes, which I've become quite good at applying as a result. The Oh So Sweet Mink Lashes by Esquido ($38, esquido.com) are my favorite at the moment, as they're stunning enough to accompany my full-glam looks, but have a thin enough band that I can make them work for everyday wear, too. Yes, people, you read that right — I've gone through phases where I've worn lashes Every. Single. Day. That's how much I dislike my naturally straight ones.
Oh So Sweet Mink Lashes
Esquido
$28
For a while now, I've been curious about heated lash curlers, but I never had the guts to buy one, for fear I would end up on one of those "beauty tutorials gone wrong!" Youtube compilations of people over-bleaching their hair or burning their eyelashes off. That's just the kind of luck I have! But when the ModelCo team generously gifted me both their TURBO LASHWAND Heated Eyelash Curler ($35, modelcocosmetics.com) and their LASHXTEND Lengthening Tubular Mascara ($22, modelcocosmetics.com), I knew it was finally time to give one a try.
To begin, here's what my eye makeup would look like if I went totally mascara-free:
Not great! When I turn my head to the side, I can see my lashes, but at this head-on angle they're totally invisible. Admittedly, when I first picked up the LASHXTEND Mascara, I didn't have great expectations. For some reason, the simple pink tube didn't look as promising as the thicker, weightier mascara tubes I was used to, and so I doubted the formula almost right away. After one application, though, I stood totally corrected: I definitely still needed a curl, but my lashes were instantly darkened, lengthened, and slightly lifted as well. The formula didn't feel too wet, either, and dries completely, which I assume is so that the heated curler wont smudge it around. Because it's quite thick, this mascara runs the risk of getting a little clumpy, I admit, but it's that tubing technology (when the product basically creates a tube around your eyelash hairs, enhancing them) that allows the perfect starting point from which to then go in with the heated lash curler.
Here's that same eye with just the mascara on. Getting better!
Finally, it came time to try out the lash curler. I turned it on by switching up the button and removing the cap, and waited around sixty seconds for it to heat up fully. I was worried about it being too powerful, but even at its hottest, I could press the tool against the pad of my thumb and feel no pain, only slight warmth. TBH, at first I thought this meant it wouldn't do anything to my lashes at all.
And then I used it, and the results were bomb:
Like, hi long curly lashes? How are you? Didn't know you were possible? Created a super lifted look took me maybe a full minute to do. I held the tip of the tool against the base of my lashes and then again from about mid-shaft to tip, both times waiting around five to ten seconds for the heat to really set the curl. Because my eyes are quite big, I did this first to one half of the eye, and then the other. The tool never felt too hot (my main concern before using) and I never felt like my eyes or lashes were at risk, or that it was unsafe. In fact, it couldn't have been easier to use.
And what's more, the curl factor stays. For hours. Like, from morning until I removed my makeup at night. Where has this product been all my life?
I know that, for those of you whose lashes will hold a curl without heat, these results might not be as thrilling, but for me they were quite eye-opening. Literally. I'm really excited to have finally found a product that works, but also semi-mad at myself for waiting so long to give a heated lash curler a go. I'm also ashamed to have doubted the mascara's formula, because now I can't get ready without it. While I still wouldn't recommend any old hot tool for such a sensitive area, I now have complete faith in the ModelCo one, and have already started recommending it to friends who are equally lacking in the curl department. If you're also one of these people, I highly suggest heading over to the ModelCo site and adding their TURBOLASH WAND to your cart, like, right this second.