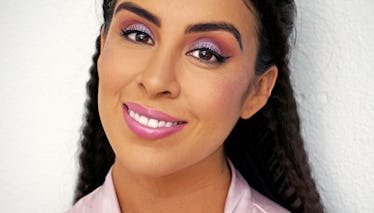 I Hate Eyelash Extensions, But I'm Obsessed With This Lash Perm
Stephanie Montes
The last time I got eyelash extensions was right before my wedding. I've been married over a year now, and haven't booked another appointment since. Because I spent most of my honeymoon picking at my fake lashes, I decided to try an alternative. After reading many a lash lift review, I booked an appointment with Sugarlash PRO in LA.
Just to be clear, I love the look of eyelash extensions — any day I can skip curling and coating my lashes in mascara is a good day — but they're just not for me. Although I did love how I was able to wear less makeup for the short time I had them, for me, lashes are where it's at. If I were stranded on a desert island (with mirrors, other people, and Instagram) and could only bring one product, I would choose to take with me an eyelash curler. While other beauty junkies would pack a foundation or concealer, my lashes are the one part of my makeup I think needs the most love because they're so straight. Without at least a little bit of curl in them, I feel like I just look tired, no matter how much sleep I got or how much makeup I'm wearing.
Because I struggle with super straight lashes, I've wanted a lash lift since they were a thing in the '90s. You might not remember hearing about it back then, because it used to be referred to as an "eyelash perm" then. But founder of Sugarlash, Courtney Buhler, assures the process has changed so much since then. The process was much riskier two decades ago: people were burning their lashes off and in some rare instances, some suffered vision problems from the solution.
Thankfully, the solution is non-toxic and the process has evolved since the '90s, because now it's my turn to get my lift. Technician Cassie Mayer taped my bottom lashes down, glued a rubber pad to my lids, and proceeded to flip my lashes up and onto the pad. She then applied a solution — which strangely enough smells exactly like hair-perming solution — and set a timer. Mayer explains to me how she first applies it from the root to the mid-way point for the first few minutes, then coats the ends for the last couple of minutes before removing it all. She tells me that the ends require less processing and if you leave the solution on too long, the lashes could end up looking singed. Much like a perm can damage hair, my lashes could basically be left with split, fried ends if she times it wrong.
Luckily, she doesn't.
Lastly, she tinted my lashes. Between the lift and the tint, I'm hoping I won't need to do anything to my lashes for the next six to eight weeks. And the best part is unlike extensions, the aftercare is so easy. The most crucial time post process is the next 24 hours — all I have to do is keep them dry for a whole day. I use makeup wipes to clean my face and cancel my workout that afternoon (you know, just in case). Again, just like a traditional perm, water (and sweat) can deactivate the curling solution.
After the curl has set, I can go about my beauty routine per usual. Unlike extensions, I can use oily makeup removers, I can wear waterproof mascara, and I don't have to book a follow-up appointment to get a fill. This is my dream situation.
After My Lash Lift
After Curling My Lashes
As for the results, I have a definite lift in my lashes. They're not as curly as I had expected them to be, but I don't have that sleepy-eyed look I get when I don't take an eyelash curler to my lashes. The results are minimal, but they're results nonetheless. The real magic comes when I apply makeup two days later. This time, I curl my lashes. All it takes is two pumps — as opposed to the six or so that I usually do — to give my lashes the most intense curl. Even after I apply mascara (which usually flattens them back out again), my lashes stand at attention.
The best part is now when all my friends plan a date to get their extensions, I don't have to FOMO from afar. I'll be there too — I'll just be getting my lash lift instead.