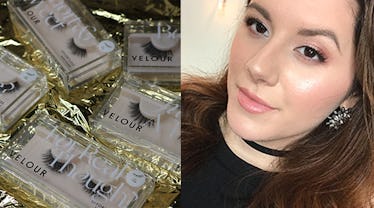 5 Pairs Of Natural-Looking False Lashes That Are So Comfy On, You'll Forget About 'Em
Kim Carpluk
I wear false lashes every single day. I know that's not the norm, but I'm practically a naked mole rat without them, and I'm perpetually terrified that I'll lose the five lashes I do have if I get extensions. After many tests, this pair of natural false lashes are my new favorite for everyday wear. They're so realistic, you'll pretty much convince yourself you were born with them on.
Making something stand out is easy. Making something look and feel natural is hard. When it comes to false lashes, a few key attributes generally give the secret away. First of all, some lashes are made with hairs that look too...perfect. They don't look fluttery and slightly random, like real hairs generally do. They might even look a little mechanically made.
Second of all, creating a durable band that isn't thick AF is nearly impossible. If the band is thin, it's less visible, but is also more prone to quick breakage. If the band is thick enough to survive multiple wears, generally it's the type of band that you need to disguise with a little eyeliner so you can't see where it starts and ends.
Finally, even if the lash is seamless against your eye, chances are you'll feel it on your eye ball. Even if it's not constantly poking you throughout the day, you'll feel the weight of it against your natural lashes. As a lash connoisseur, I can tell you from experience, finding a natural lash that looks real from the lash to the band and feels weightless is pretty near impossible.
The new Velour Effortless No Trim Natural Lash Collection has pretty much achieved the impossible. I'm so hyper-aware of my makeup and I keep forgetting I'm even wearing them. Plus, you don't have to trim the band. Even my tiny baby eyes didn't require the use of lash scissors. Trust me, the last thing I want to do in the morning.
If you want those barely-there lashes that are enough that you feel gorgeous, but subtle enough that they don't feel artificial, then you have met your match.
There are five new pairs in this magically realistic collection: For Real Though? ($26; Sephora), Just A Hint ($26; Sephora), Short & Sweet ($26; Sephora), Would I Lie? ($26; Sephora), and Barely There ($26; Sephora).
The first pair, For Real Though?, is whispy with density at the center of the lash.
Though I woke up at 5:30 a.m. today, the center length makes my eye look super open and wide awake.
The Just A Hint variety is a bit more fluffy and more flared out toward the outer corners. Nice.
It gives me more of a subtle sultry look.
A pair called Short & Sweet is the most natural looking set by far.
If you're in the market for a soft lash to just amp up your look a notch, then this pair is for you.
Would I Lie? is certainly sassy, just like the name.
These puppies come to a wing-like tip at the outer corners, which is just perfect for someone with slightly downturned eyes (like myself).
Another one of my favorites — Barely There — provides a subtle, believable lift.
It gives that very Kylie Jenner-esque piecey lash look that I love.
I applied all five of these lashes at record speed, thanks to the no-cut band and Velour Lashes Lash Adhesive ($12; Sephora). Seriously, I timed it. It took me less than one minute per lash band.
This glue is no joke, my friends. It dries quickly so you don't have to wait for ten hours before you can blink like a normal person again. Plus, it's tacky without being too tacky. My lashes feel secure, but my lids don't stick together when I blink. What a blessing!
Velour Lashes brand founder Mabel Lee recommends applying two coats of glue on each band your first time wearing that lash. That way, the band has a bit more grip and adheres to your lashline for all day long wear. After your first wear, you only need to apply the glue a single time to the lash band.
Fun fact: I also didn't apply mascara or liner before putting on these lashes. They blended so effortlessly with my natural lash hairs that I could skip all the extra steps.
So if you've been fruitlessly searching for the perfect natural pair of false lashes, you've finally found them, my friends. With five different styles, there's seriously something for everyone. Feel free to tell your friends that the lashes are indeed your own.
Trust me, they'll believe you.