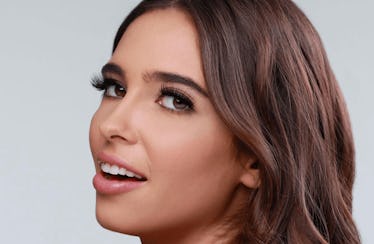 These Best-Selling Magnetic Lashes Will Finally Convince You To Give Them A Try
I don't mess with liquid eyeliner or lip liner or fake eyelashes. Why? Because I'm the opposite of dexterous and get infuriated after I fail for the umpteenth time to apply any of the above. But magnetic eyelashes from Amazon have the potential to change one of my beauty non-habits. Hear me out.
When I first heard that magnetic falsies existed, I'll admit that I was skeptical. For one, I couldn't fathom how they would work (Humans are not made of metal! What do they stick to?), and also felt like, once magically applied, they must easily slip off or look a little wacky. So naturally, I did a little investigating to see how they work and whether or not they're worth the hype.
Each eye gets two strips of magnetic lashes, one that sits just above your natural lashes, and the other that rests just below. The two strips stick to one another, so once you line them up on either side of your natural lash line, they will stick together and clamp your natural lashes between them. As Stephanie Montes, a fellow writer here at Elite Daily, explains, "One [strip] goes on top of your real lashes and the other goes under them. There are three or four tiny magnets on each strip (depending on the length). These magnets snap together, holding your real lashes in between — they're much more comfortable than they sound." She notes that "the bottom row will definitely give you trouble," but if you use them enough, you'll get used to the application process.
The sticky mess that would result from attempting to apply traditional falsies was always their biggest deterrent for me, so learning that magnetic lashes were relatively fuss-free really piqued my interest. Plus, according to Montes, "the removal process is much easier. You literally just slide them off. And the best part is you don't have to worry about pulling on your eyelid or having glue stuck in your lashes."
Of course, there are tons of different brands of magnetics eyelashes to choose from. But with feedback that stellar, I'm more than willing to give any of them a shot. I'm a natural light blonde which means my lashes, while long, pretty much look non-existent from far away. I've become accustomed to tinting them a dark brown but hate the process, so this could be a great solution for me.
So, where's the best place to buy them, you ask? Amazon! The retailer has tons of offerings for you to try, the best of which we've rounded up here.
3D Magnetic Eyelashes by Websun
According to Allure, these are the lashes to try. "To put it mildly, these lashes are going viral—they are currently up over 6,000 percent in sales," reveals the publication. "Customers are also glowing about the lash set; 79 percent of reviewers give their purchase five out of five stars."
Ardell Professional Magnetic Accents 002
These come highly recommended from Montes, who tested them out and gave them rave reviews. "These only have three magnets (full strips have four), which makes them easier to apply. If you prefer the look of a full strip, you can cut them in half and apply one piece at a time," she explains.
Overall, this is one of the best-reviewed brands on Amazon and considering it comes with eight times the lashes, I am sold. They also claim to feel super natural, double down.
This option comes with a handy applicator tool to help take the awkwardness out of putting on magnetic lashes. Plus, the box they come in might actually help keep them organized and in good condition. Win win!
Like the first pair on the list, these only come with top lash sets. But for 11 bucks and a more natural look, they're a steal.