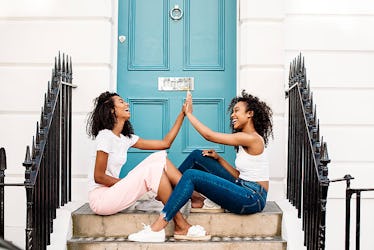 8 Older Sisters Weigh In On How To Find Your Soulmate, Because They've Seen It All
Forget Peter Parker and your friendly neighborhood Spider-Man: With the big sister mantle comes great responsibility. Apart from helping your little siblings navigate school, your family dynamic, and life in general, you also get the privilege of helping them work out the kinks in their love and sex lives. Whether you yourself are the oldest or the baby of the family, you could definitely use some love advice from older sisters in your life — because we've truly been through it all. Big sisters are the pioneers trekking through flirtation fails and sex fumbles. Big sisters boldly go where no sibling has gone before.
Although many big sisters are eager to share their advice, it's not always easy to share what we've learned. We have to strike the right balance between touting our credibility and not coming off like our Parents 2.0. But be that as it may, we'll still be here, whether it's 2019 or 2039 — ready to vet potential baes, assess date outfits, slide you a pack of dental dams, or be a shoulder to cry on Here's the advice of eight big sisters on love and partnership.