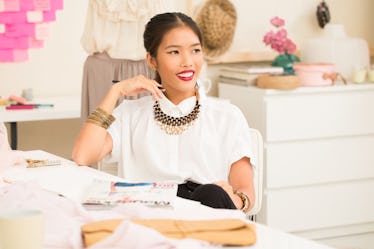 8 Inspiring CEOs Reveal Their Wisest Tips For Falling Deeply In Love
If you believe in soulmates and are currently on the hunt for yours, you might be realizing that finding your soulmate is easier said then done. As it turns out, the best way to attract your soulmate can be to fall back and let them come to you, according to love advice from CEOs. While a soulmate can be a close friend, it's often a romantic partner who's your soulmate. You'll know them when you meet them, because they make you feel safe as well as adored. It's the partner who makes you laugh a whole bunch and lose track of time. And it's the person with whom you can be your true, unadulterated self around.
When it comes to advice on finding your soulmate, take it from the women and non-binary folks who have been through it and who know a good thing when they see one. Finding your soulmate takes time and patience. And the conscious decision to stop looking so hard. There also has to be an acknowledgement that sometimes, a soulmate isn't a "forever" person. If you like the person you're dating well enough, but don't feel like they're your soulmate? That's perfectly OK, too. If you do want to find the person you're destined to be with — whatever that looks like for you — here's some advice from eight CEOs on how you can do just that.