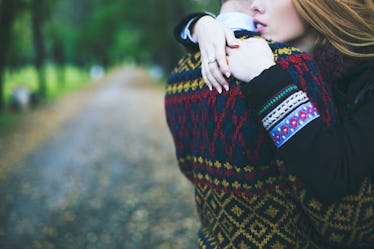 8 Signs Your Partner Isn't Your Soulmate, Because Life Is Way Too Short
For some, being in a relationship can be incredibly comforting. If you've spent a lot of time being single, having an SO can mean that you have finally have someone to spend QT with, even if it's just Netflix and chilling on a Friday night. But when you're uncertain about whether this person is the one for you, relationships can also leave you feeling shook. If you've recently made it official with someone, or are in a long-term relationship and aren't sure what the future holds, you might be on the lookout for signs your partner isn't your soulmate.
OK, but what is a soulmate, anyway? Is your soulmate the one and only person in the universe who can make you happy forever-ever? Or is your a soulmate simply someone (one of potentially many someones) who is right for you when it comes to life partnership? Whatever your definition of the word is, when things aren't quite right, it can make you second-guess everything and question your commitment to the relationship.
To help me figure out how to tell if your partner isn't the one, I spoke with some relationship experts. According to Jennifer Gunsaullus, PhD, a San Diego sociologist and sex speaker, a soulmate is "someone who has the capacity to weather the ups and downs of life with you. As a couple, you share similar big-picture values and support, and gently challenge each other to be better people." Cheesy stuff, but sign me up!
If you're still not totally sure how to tell if your bae is the one for you, I've got you covered. Keep on the look out, because according to experts, these are the eight signs your partner isn't your soulmate.