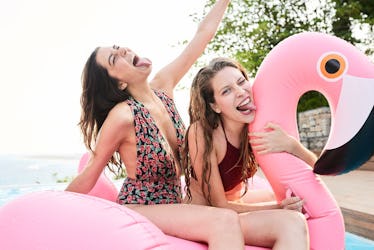 Why Your Sister Is & Always Will Be The Best Person In Your Life
From your high school friends and college buds, to your coworkers and roomies, you're surrounded by a lot of dope people in your life. But out of all of those humans, there's only room for one person to take on the role of your bestie. If you happen to have a sister, there's no question that she's that person, because she gets you on another level. I may be completely biased as someone who's #blessed with a truly awesome sis, but there are so many reasons why your sister is the best person in your life.
When it comes to a sister, she's been there since day one, and doesn't have plans of going anywhere. She's likely the most consistent friend in your life, and you share more than just a combined love of TV shows, food, and music. Sisters share the same genes, and that makes you similar on so many levels. It's why your bond is so strong without even trying.
Sure, you love your best friend, but when it comes to the one person who has helped you through it all, that is your sister. That's why she checks off all the necessary things, like these eight reasons that prove she's the best person you have.