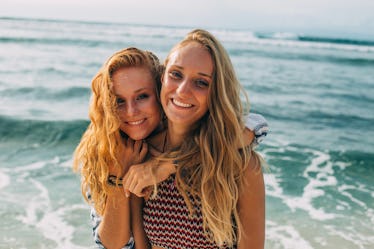 8 Times In Life Your Sister Should Always Come First, Before Your SO
The cardinal rule for sisterhood is simple: You should be there for each other at all costs. Your sister has been your main chick since day one, because she's your birthright BFF and the love is so genuine. She's one of the most amazing people you know, and you are always loyal to her, even if you're in a relationship. Of course, you and your SO have a pretty spectacular bond, but there are still times your sister should come first.
If you have a sister, you know you'd drop anything to be there for her. She needs your help in any way? You grab your cape and turn into Captain Save A Sis real quick. To say that your sister takes priority over your SO at times doesn't mean you're purposely creating a hierarchy of who has your heart. It's the way you're wired and your SO should respect your loyalty. These are specific times — not on the reg — where you really just need your sister or have to be there for her.
The bond you have with your sister shouldn't be a surprise to your SO, anyway. They likely had to pass all of her tests and appease that mental checklist she had for the type of person she thinks you deserve. So, I'm not throwing shade at your SO, but when it comes to these eight things, they've got to take the backseat to your sis.