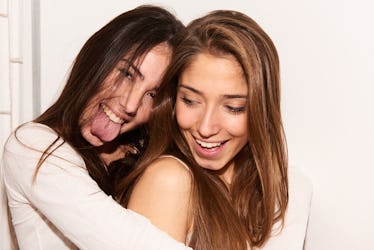 7 Times Your Sister Should Be Given A Free Pass, Because She's The Real MVP
The relationship you have with your sister is an undeniably special one. When it comes to being your family, she's your closest confidant. When it comes to being your best friend, she's the only partner in crime you'd want to tackle this thing called life with. Since your sis truly is one of a kind, there are definitely times your sister deserves a free pass — aka, special treatment. It's like when Meatloaf sang, "I would do anything for love, but I won't do that." That one thing is something you would actually do for your sister.
No one else receives these privileges, so if you're a sister, you should be thankful that this exclusive VIP pass is available to you as well. These seven situations may normally result in some pretty serious consequences, but when it comes to your sis being the culprit, you let them slide. I'm pretty sure with most of these, if anyone else did them, we probably couldn't be friends. However, if my sister is the one who's at fault, I may be a little annoyed at first, but then I end up caving. That's just the power of a true sisterhood. It may not make total sense, but you understand it if you're also in the sister club.