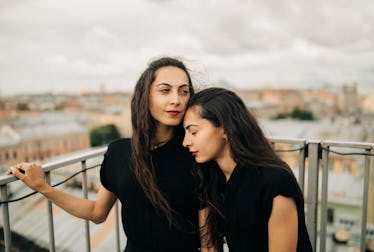 6 Wise Pieces Of Advice From Older Sisters About Falling In Love, Because Big Sis Knows Best
Confession: For as long as I can remember, I've had what I can only describe as "sister envy." While spending time at my bestie's house growing up, I observed the hilarious banter, the meaningful conversations, and the profound bonding that happened between her and her sibling, and I silently cursed my only child status. To me, it seemed that having an older sister had so many perks. Not only did you get to "borrow" their cooler clothes, but you also got to benefit from their life experience when they so graciously shared some sound advice about falling in love. After all, an older sister is close enough to your age to understand the challenges that come with the modern day dating landscape, yet she's probably been in more relationships than you and learned some lessons along the way.
There's no doubt that falling in love can be a thrilling yet confusing process. You're grappling with so many feelings at once: fear, excitement, and perhaps even hesitance or obsession. And that's where your older sister comes in. Like a heroine, she swoops in and offers up a pearl of wisdom that totally shifts your perspective. Whether you were lucky enough to have a sibling who gave you guidance on these topics or, like me, you secretly wished you did, here are some of the best pieces of advice women gleaned from their older sisters about falling in love.