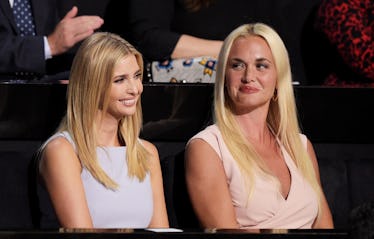 Ivanka Trump Called Vanessa Trump "Wonder Woman" Before Her Brother's Divorce
Jeff Swensen/Getty Images News/Getty Images
Better get your tissue boxes handy. Yes, Donald Trump Jr. and his wife, Vanessa, have called it quits. But they aren't the only Trump-tastic duo being severed by the divorce papers. If this Ivanka Trump quote about Vanessa Trump is to be believed, the sisters-in-law seem to have had an affectionate relationship.
Ivanka told People Magazine in 2016 that Vanessa had superhero-like qualities and was a fixture of her family.
"My sister-in-law Vanessa is a machine," Ivanka said. "She can take all of [my children] and not even notice. She has five children and she's Wonder Woman to me."
On March 15, Page Six broke the news that Vanessa filed for divorce in an uncontested proceeding, which means it's not likely that she'll fight Donald Jr. for custody of the couple's five children or their assets.
The couple provided a joint statement to Page Six announcing their divorce:
After 12 years of marriage, we have decided to go our separate ways. We will always have tremendous respect for each other and our families. We have five beautiful children together and they remain our top priority. We ask for your privacy during this time.
Ivanka and Vanessa reportedly bonded over navigating motherhood as members of high-profile families. Ivanka, 36, has three children with husband Jared Kushner, and Vanessa, 40, is a mother of five.
It's unclear what the divorce will do to the Trump girl gang, or even how strong Ivanka and Vanessa's relationship actually is.
In February, Vanessa landed in a Manhattan hospital after opening a suspicious letter from Boston that was meant for Donald Jr. She was sent to the hospital as a precaution, and it was later revealed that the letter contained corn starch. Ivanka and Donald Jr. quickly tweeted about the anthrax scare.
In addition to their public appearances together over the years, Ivanka and Vanessa often shouted each other out on social media. All signs pointed to a close, familial relationship.
In 2015, Donald Jr. tweeted that Ivanka bought him and Vanessa tickets to see Paul Simon and James Taylor.
So, what happens next? The two seem to be getting on with their lives.
Vanessa tweeted a photo of palm trees on March 20 and said that she was going on "spring break with my kiddies!" Ivanka posted meme-making gold the same day about an infrastructure visit in Iowa.
Reports have speculated as to why Donald Jr. and Vanessa decided to split, naming things like his flirty messages to a model on Twitter, his lackluster financial support for Vanessa, and even an alleged affair with Celebrity Apprentice star Aubrey O'Day.
"She was interviewing divorce lawyers before [Trump's presidency]," a source close to Vanessa told Page Six. "No one thought he'd win. He won and she decided to stay until his term is over. But she just couldn't stand it anymore."
A spokesperson for Vanessa denied all of the allegations, including claims that Donald Jr.'s social media presence caused a rift in their marriage:
Don and Vanessa have tremendous respect for each other and always have. The notion that she has had to rely on her family for assistance is absolutely false and utterly ridiculous ... Vanessa is very protective of her five children as anyone would be, especially those in the public eye. That said, any claims that she is unhappy with Don posting photos of their children on social is not true. In fact, Vanessa is usually the first to 'like' the posts that he shares. Don is a wonderful and very involved father.
The last time Donald Jr. appeared on Vanessa's social media accounts was last month at their son, Donald III's ninth birthday party on Feb. 19.
Ivanka has yet to comment publicly on her brother's divorce, or her and Vanessa's bond. As for the strength of their friendship, the world will have to wait and see.