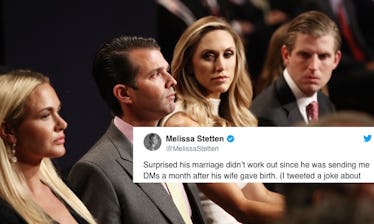 Donald Trump Jr. Apparently DM'd A Model During His Marriage & It's So Cringeworthy
WIN MCNAMEE/GETTY IMAGES NEWS/GETTY IMAGES
The first family is back in headlines after former model Melissa Stetten shared some suggestive tweets about President Donald Trump's eldest son. This tweet about Donald Trump Jr. DMing a model came alongside a series of exchanges that appeared to be posted on Twitter in 2011, while Trump Jr. was married to Vanessa. It's unclear if the tweets had any connection with or impact on Trump Jr.'s marriage.
Reports surfaced on Thursday, March 15, that Trump Jr. and his wife were getting a divorce after 12 years of marriage. Page Six reported that Vanessa Trump, a former model herself, had filed for divorce in a Manhattan court on Thursday. The couple got married in November 2005, after reportedly meeting at a fashion show in 2003. They have five children.
"Surprised his marriage didn't work out," Stetten wrote sarcastically in the tweet, "since he was sending me DMs a month after his wife gave birth." According to the former model, at the time of the exchange, she had tweeted a joke about pulling a muscle while changing a tampon, and Trump Jr. replied to the tweet by asking her if she smelled bacon. After tweeting his reply, according to a screenshot posted by Stetten on March 15, Trump Jr. direct messaged her the following: "Well im getting sh*t 4the bacon comment glad I opted not 2send the tweet asking 4pics from ur bathroom tweet last night," including a winky face.
A spokeswoman for Trump Jr. provided People a screenshot that showed the continued thread of the DM between the two, which the spokeswoman said shows the exchange was understood to be a joke. In that screenshot, Stetten's response reads, "Haha. People are such dummies! We're hilarious," with a smiley face.
Several users commented on the incident saying that the apple doesn't fall too far from the tree. If the tweets are authentic, it would suggest that Trump Jr. shares in common with his father: a history of talking about women's genitals.
After the initial bacon joke and DM, Trump Jr. continued to tweet at her. "Stop that!!! I am a happily married man," read one tweet, with a winky face.
In another reply, Trump Jr. tweeted, "@MelissaStetten now you're just toying w my emotions. Why don't women come up w bacon perfume? Seems so much better than that channel crap." (He was assumedly referring to Chanel.)
Additionally, in a tweet of his own from the same day as Stetten's original bacon tweet, Trump Jr. tweeted, "Does anyone else have a Bacon fetish??? It sounds so wrong but tastes so right!"
Stetten told People that prior to their Twitter interactions, she didn't know the eldest Trump son. "He just started following me so I followed back. He would favorite my tweets and occasionally reply," she said. "I always thought of the Trumps as idiots so it was entertaining to see his failed attempts at hitting on me."
Stetten didn't end her trolling of Trump Jr. there. In a March 15 tweet, she wrote, "How could anyone divorce this man?" and "Who gets custody of this dead elephant," sharing what appeared to be photos of Trump Jr. after various hunting trips.
Stetten is now in the center of media attention over her tweets. "I'm definitely on some type of secret service list now," she tweeted in light of the implications her tweets had for the first family. "They can pry my TSA Pre-check from my cold dead hands."
In her March 15 thread exposing the tweets and messages, Stetten asked the obvious: Why hadn't the president's son bothered to remove tweets that could reflect poorly on his family? Trump Jr., along with his younger brother Eric Trump, took over the helm of the Trump Organization when their father took office in 2017. And he continues to be on the front lines of political involvement; earlier this month, he campaigned for losing GOP candidate Rick Saccone in Pennsylvania.
As for how the tweets reflect on Trump Jr.'s relationship, it's all speculation, but the model's tweets certainly didn't come at a good time in terms of publicity.