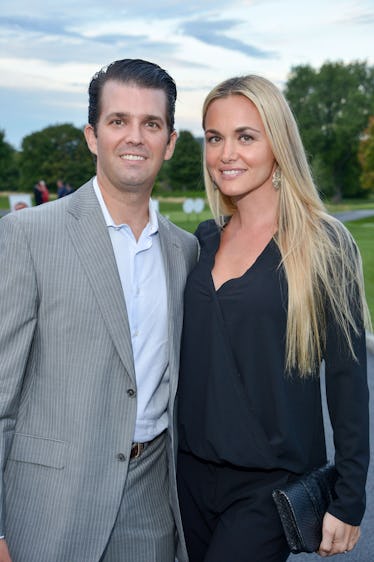 The Story Of How Donald Trump Jr. & Vanessa Trump Met Is Kind Of Messed Up
Grant Lamos IV/Getty Images Entertainment/Getty Images
Listen up everyone, have I got a story for you. As reports circulate that the eldest Trump son and his wife are ending their marriage, it's making me wonder something. Exactly how did Donald Trump Jr. and Vanessa Trump meet? It's definitely no fairytale.
Back in 2006, Vanessa Trump personally shared the story of her and Donald Trump Jr.'s first meeting with The New York Times, and boy is it a doozy. The former model recalled attending a fashion show in 2003 when low and behold Donald Trump Sr. walked up to Vanessa and introduced his son. After that, the rest is history.
"I'm at this fashion show," Vanessa Trump recalled to the Times. "Donald Trump comes up to me with his son: 'Hi, I'm Donald Trump. I wanted to introduce you to my son Donald Trump Jr.'"
Pretty standard meet and greet right? Well hold on, because we're not done yet.
According to Vanessa Trump, the three chatted for a little bit before parting ways. However, later during the night Donald Trump went up to Vanessa again and actually reintroduced his son.
"Donald comes back up to me again, 'I don't think you've met my son Donald Trump Jr.,'" Vanessa Trump recalled. She responded, "Yeah, we just met, five minutes ago."
I can just picture Donald Trump Jr. muttering "Dad. Please. You're embarrassing me."
Nothing came from that first encounter, but six weeks later the two crossed paths again while attending a birthday party in New York. This time the couple was introduced by a mutual friend and, without a persistent father there to kill the mood, the two hit it off and "talked for an hour," according to Vanessa Trump.
Ironically enough, neither of the two remembered the previous encounter. That is, until something clicked in Vanessa's mind. "Wait, you were at that fashion show. Wait, you're the one with the r*tarded dad!" she reportedly blurted out, using a slur regarding someone's mental capacity.
Not the most romantic love story I've heard in a while.
Despite the awkward first impression, the two married in 2005 and now have five children together. However, on March 15, news broke that Vanessa Trump had reportedly filed for divorce from Donald Trump Jr. Representatives for Trump Jr. and the Trump family did not immediately reply to Elite Daily's request for comment.
Rumors had been swirling before the reported divorce filing. Sources spoke to Page Six about troubles facing the Donald Trump Jr. and Vanessa, citing Donald Trump Jr.'s traveling schedule as a large issue for the couple.
"Donald Jr. has been busy traveling, which has contributed to their problems," sources reportedly told Page Six. "Vanessa is a devoted mother, but she is increasingly lonely and alone in the house with the children."
Since Donald Trump Jr. and younger brother Eric Trump took over the Trump Organization while their father is in the White House, the eldest son has been jet setting a lot more than usual. Just in February, he visited India to promote development plans of luxury apartment buildings.
Sources also told Page Six that Vanessa's dislike of the public spotlight has also stirred some problems.
"Vanessa is by nature is a very low-key person, and she is uncomfortable with the attention her family is getting now the Trumps are on the world stage," the sources reportedly said. "She is also worried for her kids, particularly after she received the threatening letter containing the white powder."
This "white powder" the source mentions refers to the day on Feb. 12 where Vanessa Trump was rushed to the hospital after receiving a threatening letter containing a mysterious white powder.
Talk about a scary situation. If I were her I wouldn't be itching to draw any attention either.
So it's safe to say that how they met isn't necessarily rom-com material. Donald Trump may be president but he's certainly no wingman.